Lifetime Peony Collection
Shop plants best for your
Hardiness Zone
* Your final payment amount will be calculated at the time of checkout.
Lifetime Peony Collection Description
Enjoy a Lifetime of Beauty by Planting These Magnificent Peonies This FallBeauty Without Care
That's the dream of every gardener. And that's why the versatile peony has long been a favourite worldwide. No plant provides so much beauty with so little care.
And, best of all, once planted, peonies give a lifetime of delightful foliage and massive late-spring to early-summer blooms. It is not at all unusual for quality peonies to bloom year after year for many decades. In some Asian temple gardens, there are peony hedges that have provided continuous beauty for over one hundred years.
The Chinese perfected the peony more than a thousand years ago, but in recent years it has been improved still further by the careful work of skilled hybridizers. Thus, today's fine Lifetime Peonies are even hardier and more beautiful than ever before. They are available in a wide range of appealing colours that are certain to brighten any garden, border or container.
The trick to enjoying the full beauty of
peonies
is to start by planting large, top-quality roots. But finding such quality roots has become increasingly difficult. Top varieties are frequently unavailable, and quite often only small root divisions are offered for sale.
Breck's® Enters Its Third Century in Business
Breck's own roots date back to the early 19th century, when horticulturalist Joseph Breck founded our company. In 2018, we celebrated our 200th anniversary of doing business with gardening enthusiasts like you who have supported us for so long. As we enter our third century, we'd like to say "thank you" to our preferred customers with this very special offer on a selection of four outstanding Lifetime Peony varieties that you can expect to flower and thrive for many generations.
These Lifetime Peonies are the result of years of patient development--the ultimate in floral beauty. The big, healthy, heavy 2-3 eye, #1 field divisions are easy to plant and require little care--a gardener's dream! They're extremely hardy, and grow and bloom decade after decade.
You don't even have to give them special attention, such as protection from harsh winter weather--they'll sleep contentedly even when winds are howling and thermometers drop! Then, as warmer weather approaches, their red shoots emerge from the ground to herald the arrival of spring.
Properly planted, Lifetime Peonies will bloom faithfully every spring, even if entirely neglected. About the time your tulips have finished, the big flower buds appear and your peonies begin to bloom. One soft petal after another slowly breaks away from the tight, round bud until each massive bloom is as large as 6" across and spreading its heavenly fragrance. Peonies also make delightful cut flowers--each beautiful, long-lasting bloom becomes almost a bouquet in itself.
Versatile for Planting
You'll love Lifetime Peonies for planting in those special spots where you've always wanted a dramatic floral show. Plant them 2-3' apart in full sun or partial shade. In fact, these Lifetime Peonies may be just the thing for one of those partially shady spots where you've never been able to get anything else to grow. They're not at all fussy about soil.
You'll find dozens of spots around your home where you can enjoy the beauty of peonies. They are excellent for planting in open spaces among shrubs...at the edge of woodlands...as a 2-3' backdrop for lower-growing flowers...along a foundation or fence...and what a delight to create a dramatic hedge all spring and summer along your walks and driveways.
This collection includes 1 each of the following varieties.
Festiva Maxima Peony
Felix Supreme Peony
Sarah Bernhardt Peony
Sorbet Peony
Details
Botanical Name

Collection of various Paeonia

Form

Perennial

Hardiness Zone

3-8

Flowering Time

Early/Mid/Late flowering season (mid to late spring)

Light Requirements

Full Sun, Partial Shade

Flower Color

Various colors, see individual varieties

Flower Form

Fully double flowers

Foliage Type

Glossy, deep green leaves. Very ornamental through-out the growing season. The new growth in spring is a copper-burgundy and turns a soft yellow in the fall.

Growth Rate

Medium
Height/Habit

26 - 36 inches

Spread

32 - 36 inches

Planting Instructions

Dig a hole large enough to spread out roots without bending them. Set crown with buds on ground-level. Water in thoroughly. Plant at least 6 weeks before ground freezes.

Soil Requirements

Well drained

Will Tolerate

Acidic Soil, Clay Soil, Loamy Soil, Sandy Soil

Pruning

Remove spent flower stems after flowering to maintain an attractive bush type perennial all summer long.
Growing Tips for Lifetime Peony Collection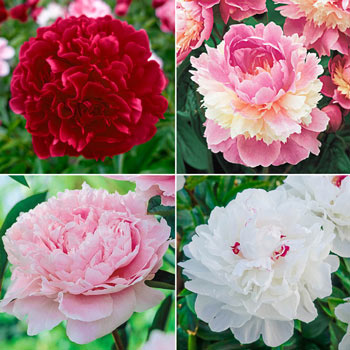 Customer Reviews
Questions & Answers
Shipping
Upon placing your order you will receive an email confirmation with the details of your order and a shipping estimate. You will also receive an email notification when your order actually ships with an updated arrival estimate. If you have ordered multiple items, you may receive them in more than one shipment. We will send you a separate email confirming each shipment.
At any time after you place your order you can check your order status on our website using your email or the account number found in your order confirmation email.
The type of product you order or the weather in our area or your area may affect the anticipated shipping schedule below.
Based on the contents of your order we always strive to ship your order complete, and as early as possible in the planting season to allow for the best root development once planted.
To promote optimum stress protection in transit and your success in the garden, bareroot perennials are kept in the ground in our nurseries until fully dormant. In the Fall these plants tend to arrive at the later end of the shipping window above.
In all cases, we choose the fastest, most efficient way to delivery your orders via the USPS or FedEx based on your hardiness zone.. Large orders may be shipped in more than one package.
Bulb and perennial shipments direct from Holland are harvested in July and August dependent on the season and crop. Once fully inspected and packaged they are shipped direct to you in the most efficient manner to follow the dates above.
Garden hardgoods and Gift Certificates ship with in 4-7 day.
We will pack and ship your order based on the following schedule.
Please note that we cannot ship outside the 48 contiguous states.
FALL Shipping Schedule
Bulbs from Holland

Zones
Shipping Dates
3AB - 7AB
9/19/22 - 11/25/22
8AB - 10AB
9/19/22 - 11/25/22
Last Order Date
11/21/22

Bareroot Perennials

| Zones | Shipping Dates |
| --- | --- |
| 3 - 6 | 9/5/22 - 10/28/22 |
| 7 - 10 | 9/26/22 - 11/11/22 |
| Last Order Date | 11/7/2022 |

5" Potted Roses

| Zones | Shipping Dates |
| --- | --- |
| 1AB - 10B | 8/17/21 - 9/18/21 |
| Last Order Date | 9/14/2021 |

Hedges and Shrubs

| Zones | Shipping Dates | Last Order Date |
| --- | --- | --- |
| 3 - 7 | 10/3/22 - 11/4/22 | 10/31/22 |
| 8 - 10 | 10/3/22 - 11/18/22 | 11/14/22 |

House Plants

| Zones | Shipping Dates | Last Order Date |
| --- | --- | --- |
| 3AB - 6AB | 7/11/22 - 10/21/22 | 10/17/2022 |
| 7AB - 10AB | 7/11/22 - 11/4/22 | 10/31/22 |

Shipping & Handling Charges

| Total Order | Add |
| --- | --- |
| Up to $40.00 order | $9.95 |
| $40.01 to $60.00 | $12.95 |
| $60.01 to $80.00 | $14.95 |
| $80.01 to $100.00 | $16.95 |
| $100.01 to over | $18.95 |
See our shipping information page for approximate ship dates and more detailed information. If you have any questions, please call Customer Service at (513) 354-1512 or contact us at service@brecks.com.
---