Beach Ball Dahlia Collection
Beach Ball Dahlia Collection
Giant Blooms with Rounded Form!
This amazing assortment will produce wave after wave of dazzling dahlias! The towering, splashy varieties that comprise our Beach Ball Dahlia Collection are certain to attract attention wherever they're planted. To keep them from upstaging nearby flowers, grow them at the back of a bed or border planting or against a fence. Or, for a bold and brilliant display, plant them randomly en masse. They start opening their enormous 8-10" blooms in summer and continue through the first frosts of fall.
Have a Ball with Big Blooms till Late Fall!
Our Beach Ball Dahlia Collection includes five colourful varieties, each capable of producing magnificent 8-10" flowers. Their petals bend back toward the stem, giving the blooms an unusual, spherical shape that makes them even more eye-catching. These spectacular blooms will "round out" your garden like nothing else!
Tall and sturdy, these plants will thrive and bloom profusely beginning in summer and continuing well into fall. When frost lingers on the ground, it will be time to lift your dahlia clumps for winter storage. Then, in the spring, divide the multiplying tubers for additional plantings, or share them with your envious friends and neighbours!
Beach Ball Dahlias Make Incredible Bouquets
Bring these colourful, colossal blooms into your home! Dahlias are among the longest lasting cut flowers. Float a huge, perfectly formed dahlia in a shallow bowl of water to easily create a dramatic centrepiece. Or design a breathtaking arrangement of dahlias in a big bouquet or large vase. They look great all by themselves or mixed with other flowers, berries and fruits. Don't forget: The more you cut them, the more blooms they produce.
Why Breck's Dahlias are Better than the Rest
Our dahlias are grown in Holland, in the heart of the world-famous bulb district. Our staff of experts spends the entire year working with the leading Dutch growers, from selecting the finest, garden-tested varieties through every phase of production. At harvest time, we individually inspect each dahlia clump, and we ship you only the cream of the crop.
Fashionably Late Flowers Until Frost
Dahlias are the queens of the late-summer garden, producing showy blooms in a wide variety of colours, forms and sizes. This is great news for gardeners who are always looking for something different to add to their collection. Our Beach Ball Dahlia Collection offers exciting globe-shaped flowers that will "round out" your garden like never before! Like most dahlias, these varieties will thrive in well-drained soil and sun or partial shade. And their bushy habit makes them perfect for filling in gaps or creating a full-coverage privacy hedge.
A Pinch Bigger than the Rest
For the largest exhibition blooms possible, pinch the side shoots of your dahlias as they grow. This will allow the remaining flowers to receive more of the plant's food and energy. For slightly smaller blooms in higher numbers, leave the side shoots alone.
IT'S EASY TO GROW GREAT DINNERPLATE DAHLIAS
To help your dahlias get off to a good start, we'll include a free Breck's Planting Handbook with your order. You can also download our free Dahlia Planting Handbook at Brecks.com/dahliaguide for even more information about properly growing and maintaining these incredible flowers!
This collection includes 2 each of the following varieties:
Vassio Meggos: Sweet, lavender-pink variety is a vigorous sport of the lush, dark red Spartacus. Expect plenty of fully double, round blooms that can reach 10" across. It's not unusual for this show-winning garden beauty to produce up to 25 giant flowers per plant. Makes a knockout addition to floral centrepieces—or as a sole bloom in a simple vase. Plants grow 4-4½' tall.


Spartacus: This red is sure to win blue ribbons at the fair. Crimson, orb-shaped flowers are slightly darker in the centres and look like velvet. Sturdy stems support plentiful, enormous blooms that can reach 10"¬across. Grows strong in the garden or border and lasts long in a vase or bouquet. Wide petals curl moderately at the tips. Plants grow 4-4½' tall.


Lady Liberty: Pristine white that's worth the wait! This elegant late bloomer will catch the eye amid nature's warmer autumn hues. Globe-shaped flowers reach 8-10" across and sit atop lush, green foliage and strong stems. This decorative dahlia has gently reflexed petals. Its remarkable form makes it a perfect fit within the symmetrical environment of a formal garden. Plants grow 44-48" tall.


Tartan: Without a doubt, our favourite dahlia! Rich burgundy petals are striped with thick bands of snowy white. Spherical, fully double blooms can reach 8" across. Sharply contrasting colours and big blooms make it a natural focal point in the garden. When grown in back of a border, Tartan draws the eye over the entire space and beautifully enhances nearby plantings. Plants grow 36-48" tall.


Hercules: Tall, robust stems easily carry its luxuriant, 8" fully double blooms, which are perfectly formed and exhibit a luminous golden-orange hue. Hercules is a longlived, attention-getting variety that puts on a dramatic show whether it is used as a focal point in back of a sunny border or has been snipped and arranged in a vase. Easy to grow and disliked by foraging deer. Height: 44".
Light

Full Sun

Size

# 1 clumps

Zone

3-10. Lift in Fall in zones 3-8

Bloom Time

Summer to frost

Height

36 - 54 inches

Soil Requirement

Well drained

Deer Resistant
We'll carefully pack and ship your order at the proper planting time for your hardiness zone.
Item 81504 cannot ship to: AE AK GU HI PR
Details
Botanical Name

Dahlia

Form

Tuber

Hardiness Zone

3-10

Lift in Fall

3-8

Flowering Time

Summer to frost

Light Requirements

Full Sun

Flower Color

Collection of various colors

Flower Form

8-10" fully double, ball-shaped flowers. When the side buds are not pinched, flowers grow a bit smaller.

Foliage Type

Mid green, pinnate leaves with ovate leaflets

Growth Rate

Medium
Height/Habit

36 - 54 inches

Spread

24 inches

Planting Instructions

Loosen soil well before planting. Dahlias respond dramatically to feeding, so we advise to enrich the soil with compost or well-rotted manure and then apply some fertilizer at time of planting. Plant the tuber with the potato-like roots facing down with 2" of soil on top of the tuber. Water well after planting.

Soil Requirements

Well drained

Will Tolerate

Acidic Soil, Clay Soil, Loamy Soil, Sandy Soil

Pruning

Remove spent flower heads to encourage more blooms and maintain a neat appearance.
Growing Tips for Beach Ball Dahlia Collection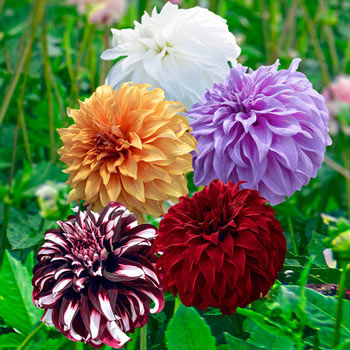 Shipping
Upon placing your order you will receive an email confirmation with the details of your order and a shipping estimate. You will also receive an email notification when your order actually ships with an updated arrival estimate. If you have ordered multiple items, you may receive them in more than one shipment. We will send you a separate email confirming each shipment.
At any time after you place your order you can check your order status on our website using your email or the account number found in your order confirmation email.
The type of product you order or the weather in our area or your area may affect the anticipated shipping schedule below.
Based on the contents of your order we always strive to ship your order complete, and as early as possible in the planting season to allow for the best root development once planted.
To promote optimum stress protection in transit and your success in the garden, bareroot perennials are kept in the ground in our nurseries until fully dormant. In the Fall these plants tend to arrive at the later end of the shipping window above.
In all cases, we choose the fastest, most efficient way to delivery your orders via the USPS or FedEx based on your hardiness zone.. Large orders may be shipped in more than one package.
Bulb and perennial shipments direct from Holland are harvested in July and August dependent on the season and crop. Once fully inspected and packaged they are shipped direct to you in the most efficient manner to follow the dates above.
Garden hardgoods and Gift Certificates ship with in 4-7 day.
We will pack and ship your order based on the following schedule.
Please note that we cannot ship outside the 48 contiguous states.
SPRING Shipping Schedule
Breck's Holland Direct Ship

| Zones | Shipping Dates | Last Order Date |
| --- | --- | --- |
| 3A - 4B | 3/18/24 - 6/7/24 | 6/3/24 |
| 5A - 5B | 3/11/24 - 6/7/24 | 6/3/24 |
| 6A - 6B | 3/3/24 - 6/7/24 | 6/3/24 |
| 7A - 7B | 2/26/24 - 6/7/24 | 6/3/24 |
| 8A - 10B | 2/19/24 - 6/7/24 | 6/3/24 |

Shipping & Handling Charges

| Total Order | Add |
| --- | --- |
| Up to $40.00 order | $10.95 |
| $40.01 to $60.00 | $14.95 |
| $60.01 to $80.00 | $16.95 |
| $80.01 to $100.00 | $18.95 |
| $100.01 to over | $20.95 |
See our shipping information page for approximate ship dates and more detailed information. If you have any questions, please call Customer Service at (513) 354-1512 or contact us at service@brecks.com.
---