Deluxe Double Daffodil Collection
Shop plants best for your
Hardiness Zone
* Your final payment amount will be calculated at the time of checkout.
Deluxe Double Daffodil Collection Description
Majestic Beauty From The Fields Of Holland
Double the Drama
Of all the double daffodils that are grown in Holland each year, the 6 magnificent varieties that make up the Breck's
®
Deluxe Double Daffodil Collection are unsurpassed.
The large, bold double blooms of these luscious Dutch double daffodils will enhance any outdoor setting in early to mid spring, and they are equally stunning when cut for an indoor bouquet. Like other Dutch daffodils, these majestic beauties grow straight and strong, but their colourful, elegant centres will both surprise and delight you when they bloom in your garden next spring.
These hardy and beautiful flowers would be the perfect addition to any springtime garden, as well as a dramatic centrepiece of any bouquet.
In early to mid spring, dramatic double blooms will steal the spotlight with their surprising colourful and petal-packed centres. Breck's customers who have planted these majestic double daffodils in the past seem impressed with the results.
Winter hardy in zones 3-8, daffodils are among the most rewarding bulbs you can grow, returning year after year with even more blooms.
This collection includes 5 each of the following varieties:
Replete: Named 1995 Daffodil of the Year
Fragrant blossoms open yellow-orange, but quickly turn a rose pink with ivory-white petals. This double daffodil will be a cherished addition to any garden. Marvelous scent. Grows 18-20" tall with long-lasting 4" blossoms. Blooms mid spring.


Blonde Beauty™: Strong 16-18" stems are crowned with 3-4" golden yellow blooms. Springtime's deep, luscious greens will provide a stunning background for the radiant glow of this elegant charmer.


Tahiti:The brilliant red centres, intermingled with golden yellow, in these 4-4½" blooms make this fragrant beauty a masterpiece of form and colour in early to mid spring. 18-20" stems are perfect for gardens or bouquets.


Orangerie: The unique appearance of this split-corona daffodil will embellish even the most handsome garden. Vibrant orange ruffles with a touch of yellow at the edges are interwoven with delicate, white petals. Very fragrant. Hardy, longlasting 4-6" blooms grow on sturdy 18-20" stems in early to mid spring.


Flower Drift:These resplendently feminine flowers belong in the upper echelon of all double daffodils! Delicate 4" blooms, with deep orange-red centres amid a flurry of creamy white petals, arrive in early to mid spring on 16-18" stems.


Ice King: Ivory-white petals and a fluffy yellow, fully double cup create huge 4-5" blooms atop 16-18" stems in early to mid spring. Truly one of the most striking and unique daffodils ever developed, the Ice King reigns supreme.


FREE GIFT! 5 Winston Churchill Daffodil bulbs: This outstanding double daffodil of English origin is multi-floral, with 5-7 flowers on each 16-18" stem. It blooms in mid spring, adding beauty and delicate fragrance to your garden. Excellent for naturalizing.
These 5 bulbs alone have a catalogue value of $9.99, but they're yours absolutely free with each collection you order!!
Details
Botanical Name

Narcissus double

Form

Perennial

Hardiness Zone

3-8

Flowering Time

Early to mid spring

Light Requirements

Full Sun, Partial Shade

Flower Color

Mixture of various colors

Flower Form

Double cupped flower

Foliage Type

Rich, long green, strap like leaves.

Growth Rate

Medium
Height/Habit

16 - 20 inches

Spread

4 - 6 inches

Planting Instructions

6" deep and 4 - 6" apart

Soil Requirements

Well drained

Will Tolerate

Acidic Soil, Clay Soil, Loamy Soil, Sandy Soil

Pruning

Let foliage mature and die down naturally
Growing Tips for Deluxe Double Daffodil Collection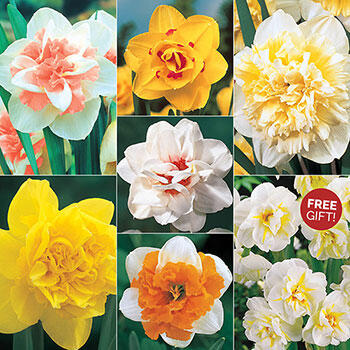 Customer Reviews
Questions & Answers
Shipping
Upon placing your order you will receive an email confirmation with the details of your order and a shipping estimate. You will also receive an email notification when your order actually ships with an updated arrival estimate. If you have ordered multiple items, you may receive them in more than one shipment. We will send you a separate email confirming each shipment.
At any time after you place your order you can check your order status on our website using your email or the account number found in your order confirmation email.
The type of product you order or the weather in our area or your area may affect the anticipated shipping schedule below.
Based on the contents of your order we always strive to ship your order complete, and as early as possible in the planting season to allow for the best root development once planted.
To promote optimum stress protection in transit and your success in the garden, bareroot perennials are kept in the ground in our nurseries until fully dormant. In the Fall these plants tend to arrive at the later end of the shipping window above.
In all cases, we choose the fastest, most efficient way to delivery your orders via the USPS or FedEx based on your hardiness zone.. Large orders may be shipped in more than one package.
Bulb and perennial shipments direct from Holland are harvested in July and August dependent on the season and crop. Once fully inspected and packaged they are shipped direct to you in the most efficient manner to follow the dates above.
Garden hardgoods and Gift Certificates ship with in 4-7 day.
We will pack and ship your order based on the following schedule.
Please note that we cannot ship outside the 48 contiguous states.
FALL Shipping Schedule
Bulbs from Holland

Zones
Shipping Dates
3AB - 7AB
8/9/21 - 12/10/21
8AB - 10AB
8/23/21 - 12/10/21
Last Order Date
12/06/2021

Bareroot Perennials

| Zones | Shipping Dates |
| --- | --- |
| 3AB - 10B | 9/13/21 - 11/26/21 |
| Last Order Date | 11/22/2021 |

5" Potted Roses

| Zones | Shipping Dates |
| --- | --- |
| 1AB - 10B | 8/17/21 - 9/18/21 |
| Last Order Date | 9/14/2021 |

Hedges and Shrubs

| Zones | Shipping Dates |
| --- | --- |
| 1A - 4B | 9/9/21 - 10/30/21 |
| 5A | 9/9/21 - 10/30/21 |
| 5B | 9/9/21 - 10/30/21 |
| 6A - 6B | 9/9/21 - 10/30/21 |
| 7A - 7B | 9/9/21 - 10/30/21 |
| 8A - 8B | 9/9/21 - 10/30/21 |
| 9A - 10B | 9/9/21 - 10/30/21 |
| Last Order Date | 10/26/2021 |

House Plants

| Zones | Shipping Dates | Last Order Date |
| --- | --- | --- |
| 3AB - 6AB | 7/6/21 - 11/6/21 | 11/2/2021 |
| 7AB - 10AB | 7/6/21 - 11/16/21 | 11/2/2021 |

Shipping & Handling Charges

| Total Order | Add |
| --- | --- |
| Up to $40.00 order | $9.95 |
| $40.01 to $60.00 | $12.95 |
| $60.01 to $80.00 | $14.95 |
| $80.01 to $100.00 | $16.95 |
| $100.01 to over | $18.95 |
See our shipping information page for approximate ship dates and more detailed information. If you have any questions, please call Customer Service at (513) 354-1512 or contact us at service@brecks.com.
Planting Video: Step by Step
---