Breck's® Dwarf Bearded Iris Collection
Breck's® Dwarf Bearded Iris Collection
Light

Full Sun, Partial Shade

Size

Rhizomes

Zone

4-9

Bloom Time

Early to late spring and some varieties bloom again in late summer-early fall.

Height

6 - 15 inches

Soil Requirement

Well drained preferred. Quite tolerant of a wide range of soils although.

Deer Resistant
We'll carefully pack and ship your order at the proper planting time for your hardiness zone.
Item 80955 cannot ship to: AE AK GU HI PR
Breck's® Dwarf Bearded Iris Collection Description
A Perennial Favourite for Decades
Breeders started developing dwarf bearded irises in the1930s. By the 1950s, interest in them had soared. Today, these star performers are still a favourite among gardeners because of their early blooms, hardiness and carefree nature. Simply plant these pretty, petite perennials and then watch them flower and thrive for years to come!
Don't Sell These Early Bloomers Short
For iris lovers who tend to get a little antsy waiting for flowering season, we heartily recommend dwarf bearded irises. Imagine looking out over your early spring landscape and seeing it abloom with drifts of lovely irises. Breck's
®
proudly offers a brand new collection of these plucky little beauties that bloom at the first sign of warm spring weather, before their taller cousins. Their fan-shaped flowers, while smaller, are completely formed in miniature with standards, beards and falls. Because dwarf bearded irises are vigourous, long-lived perennials, their carpets of colour expand yearly to create generous displays in gardens and rockeries—even beneath trees. Plant them in sun or partial shade. Their smaller size makes them a great choice for brightening up borders, pots and planters. Easy to grow in zones 4-9, dwarf bearded irises are deer resistant and often fragrant. Some even rebloom later in the season. What they lack in size, they more than make up for in looks and personality!
This collection includes one each of the following varieties:
Ultimate: Medium yellow standards contrast beautifully with mahogany falls, which sport a few golden rays on the haft. This multiple award winner exudes a slight spicy fragrance. Grows 13" tall.


Riveting: Gorgeous, ruffled flowers are white with large, dark blue-purple spots on the falls. Light yellow beards are tipped white. Blooms have a noticeable spicy fragrance. Multiple award winner. Grows 15" tall.


Fuzzy Slippers: With its apricot and orange petals and large, bright orange beards, this diminutive darling will illuminate any springtime border or bouquet. Grows 6" tall.


Trajectory: Winner of the prestigious John C. Wister Medal. Dark blue-purple standards and slightly darker blue-purple falls with white luminata patches. Beards are white, blooms smell spicy. Grows 10–12" tall.


Forever Blue:Here's an award-winning rebloomer whose pretty, pale blue standards and falls are washed with violet. Dark blue beards add nice contrast. Flowers early in spring and again in fall. Grows 12" tall.


Cat's Eye: Compact clumps of rich rose-red blooms bear deep red centres on the falls. This multiple award winner will add exotic colour to pots, border fronts or sunny rockeries. Grows 15" tall.


Details
Botanical Name

Collection of various Dwarf Iris (Iris germanica/pumila)

Form

Perennial

Hardiness Zone

4-9

Flowering Time

Early to late spring and some varieties bloom again in late summer-early fall.

Light Requirements

Full Sun, Partial Shade

Flower Color

Collection of various dwarf iris in an wide range of colors

Flower Form

Flowers are fan-shaped, with three drooping petals called falls and three upright petals called standards.

Foliage Type

Glaucous-green, sword-like fans of stiff upright leaves with some dying back in colder climates in winter.

Growth Rate

Medium
Height/Habit

6 - 15 inches

Spread

12 - 15 inches

Planting Instructions

Set rhizome so bottom half is below ground level. Firm well and water thoroughly. Plant where they will get at least 5 hours of sun per day.

Soil Requirements

Well drained preferred. Quite tolerant of a wide range of soils although.

Will Tolerate

Acidic Soil, Clay Soil, Loamy Soil, Sandy Soil

Pruning

Remove spent flower stems after blooming. In late fall, cut back foliage to 6" fans. Clean plant debris before winter to prevent borers overwintering.
Growing Tips for Breck's® Dwarf Bearded Iris Collection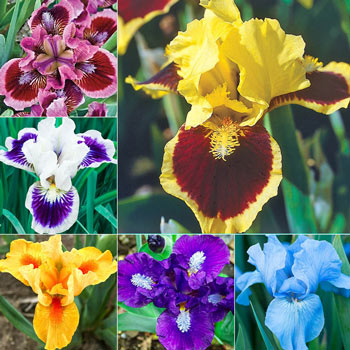 Customer Reviews
Questions & Answers
Shipping
Upon placing your order you will receive an email confirmation with the details of your order and a shipping estimate. You will also receive an email notification when your order actually ships with an updated arrival estimate. If you have ordered multiple items, you may receive them in more than one shipment. We will send you a separate email confirming each shipment.
At any time after you place your order you can check your order status on our website using your email or the account number found in your order confirmation email.
The type of product you order or the weather in our area or your area may affect the anticipated shipping schedule below.
Based on the contents of your order we always strive to ship your order complete, and as early as possible in the planting season to allow for the best root development once planted.
To promote optimum stress protection in transit and your success in the garden, bareroot perennials are kept in the ground in our nurseries until fully dormant. In the Fall these plants tend to arrive at the later end of the shipping window above.
In all cases, we choose the fastest, most efficient way to delivery your orders via the USPS or FedEx based on your hardiness zone.. Large orders may be shipped in more than one package.
Bulb and perennial shipments direct from Holland are harvested in July and August dependent on the season and crop. Once fully inspected and packaged they are shipped direct to you in the most efficient manner to follow the dates above.
Garden hardgoods and Gift Certificates ship with in 4-7 day.
We will pack and ship your order based on the following schedule.
Please note that we cannot ship outside the 48 contiguous states.
FALL Shipping Schedule
Iris

| Zones | Shipping Dates | Last Order Date |
| --- | --- | --- |
| 3AB - 6AB | 8/8/22 - 10/28/22 | 10/24/2022 |
| 7AB - 10AB | 8/22/22 - 11/11/22 | 11/7/2022 |

Bulbs from Holland

Zones
Shipping Dates
3AB - 10AB
9/19/22 - 12/9/22
Last Order Date
12/5/22

Bareroot Perennials

| Zones | Shipping Dates | Last Order Date |
| --- | --- | --- |
| 3 - 6 | 10/10/22 - 11/11/22 | 11/7/22 |
| 7 - 10 | 10/10/22 - 11/25/22 | 11/21/22 |

Hedges and Shrubs

| Zones | Shipping Dates | Last Order Date |
| --- | --- | --- |
| 3 - 7 | 10/3/22 - 11/4/22 | 10/31/22 |
| 8 - 10 | 10/3/22 - 11/18/22 | 11/14/22 |

House Plants

| Zones | Shipping Dates | Last Order Date |
| --- | --- | --- |
| 3AB - 6AB | 7/11/22 - 10/21/22 | 10/17/2022 |
| 7AB - 10AB | 7/11/22 - 11/4/22 | 10/31/22 |

Shipping & Handling Charges

| Total Order | Add |
| --- | --- |
| Up to $40.00 order | $9.95 |
| $40.01 to $60.00 | $12.95 |
| $60.01 to $80.00 | $14.95 |
| $80.01 to $100.00 | $16.95 |
| $100.01 to over | $18.95 |
See our shipping information page for approximate ship dates and more detailed information. If you have any questions, please call Customer Service at (513) 354-1512 or contact us at service@brecks.com.
---