Kaleidoscope Dinnerplate Dahlia Collection
Kaleidoscope Dinnerplate Dahlia Collection
Light

Full Sun

Size

# 1 clumps

Zone

3-10. Lift in Fall in zones 3-8

Bloom Time

Midsummer to first frost

Height

28 - 44 inches

Soil Requirement

Well drained

Deer Resistant
We'll carefully pack and ship your order at the proper planting time for your hardiness zone.
Item 27456 cannot ship to: AE AK GU HI PR
Kaleidoscope Dinnerplate Dahlia Collection Description
Exciting bicolour dahlias will light up your summer garden!
Celebrated for their impressive bloom sizes and vibrant colour palette, Dinnerplate Dahlias remind everyone how fun and rewarding gardening can be! So when we came across these five exceptional bicolour varieties, we knew we had to secure a supply for our discerning dahlia customers. Make this collection a solo act, or pair it with our Classic Dinnerplate Dahlia Collection to create an unrivaled showpiece dahlia display!
Create more dahlia diversity with these breathtaking bicolour blooms!
Imagine your borders and bouquets practically glowing with huge 6½-9" blooms—some with bright white tips on bold solids and one with fire red tips backlit by golden yellow. These daring dahlias are so unique and eye-catching, they hardly look real!
Carefree Summer Colour
Dahlias may look fussy, but most gardeners find them easy to grow. All they need is a sunny spot with well-drained soil and protection from strong winds. Then simply lift your dahlia clumps in the fall for winter storage.
A Pinch Bigger than Most
For the largest exhibition blooms possible, pinch the side shoots of your dahlias as they grow. This will allow the remaining flowers to receive more of the plant's food and energy. For slightly smaller blooms in higher numbers, leave the side shoots alone.
Long-Lasting Blooms in the Garden or a Vase
One of the best things about dahlias is their extended blooming season—from early summer to well into fall! And once cut for a bouquet, each dahlia bloom can last 5-10 days in a vase!
IT'S EASY TO GROW GREAT DINNERPLATE DAHLIAS
To help your dahlias get off to a good start, we'll include a free Breck's Planting Handbook with your order. You can also download our free Dahlia Planting Handbook at Brecks.com/dahliaguide for even more information about properly growing and maintaining these incredible flowers!
This collection includes 2 each of the following varieties:
Duet Dinnerplate Dahlia: With its dramatic red-and-white colour contrast and huge 7–9" blooms, Duet makes a stunning statement in borders and is delightful in summer bouquets. Grows 30–36" tall.


Seattle Dinnerplate Dahlia: Incredible, 7-9" golden-yellow blooms with contrasting white tips are more intense than sunshine. Dazzling Seattle grows 28-30" tall.


Jean Marie Dinnerplate Dahlia: This is the first dahlia of true dinnerplate size—7" across—with this unique colour combination. Revel in the brilliance of its deep pink petals with contrasting white tips. Grows 30–32" tall.


Mystery Day Dinnerplate Dahlia: Large, lively, purple-and-white blooms make a big impact in your garden. The 7" flowers are glorious all season long! Grows 42–44" tall.


Procyon Dinnerplate Dahlia: A true standout, even in this collection, radiant red-and-gold Procyon appears to be lit from within! Bold, colourfast blooms 6½-7½" across won't fade in the summer sun. Grows 36-42" tall.
Details
Botanical Name

Dahlia decorative

Form

Perennial (tuber)

Hardiness Zone

3-10

Lift in Fall

3-8

Flowering Time

Midsummer to first frost

Light Requirements

Full Sun

Flower Color

Collection of various colors

Flower Form

Fully double without a central disc

Foliage Type

Pinnate leaves with ovate leaflets

Growth Rate

Fast
Height/Habit

28 - 44 inches

Spread

24 - 36 inches

Planting Instructions

2" deep and 24 - 36" apart

Soil Requirements

Well drained

Will Tolerate

Acidic Soil, Clay Soil, Loamy Soil, Sandy Soil

Pruning

Pinching of the secondary bud will produce larger flowers.
Growing Tips for Kaleidoscope Dinnerplate Dahlia Collection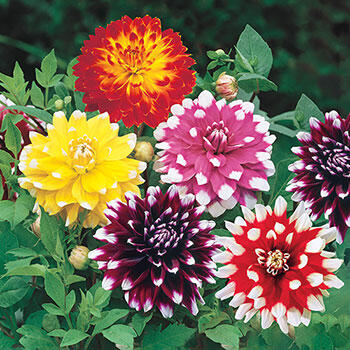 Customer Reviews
Questions & Answers
Shipping
Upon placing your order you will receive an email confirmation with the details of your order and a shipping estimate. You will also receive an email notification when your order actually ships with an updated arrival estimate. If you have ordered multiple items, you may receive them in more than one shipment. We will send you a separate email confirming each shipment.
At any time after you place your order you can check your order status on our website using your email or the account number found in your order confirmation email.
The type of product you order or the weather in our area or your area may affect the anticipated shipping schedule below.
Based on the contents of your order we always strive to ship your order complete, and as early as possible in the planting season to allow for the best root development once planted.
To promote optimum stress protection in transit and your success in the garden, bareroot perennials are kept in the ground in our nurseries until fully dormant. In the Fall these plants tend to arrive at the later end of the shipping window above.
In all cases, we choose the fastest, most efficient way to delivery your orders via the USPS or FedEx based on your hardiness zone.. Large orders may be shipped in more than one package.
Bulb and perennial shipments direct from Holland are harvested in July and August dependent on the season and crop. Once fully inspected and packaged they are shipped direct to you in the most efficient manner to follow the dates above.
Garden hardgoods and Gift Certificates ship with in 4-7 day.
We will pack and ship your order based on the following schedule.
Please note that we cannot ship outside the 48 contiguous states.
SPRING Shipping Schedule
Bareroot Perennials & Bulbs

| Zones | Shipping Dates |
| --- | --- |
| 3-4 | 3/22/23 - 6/24/23 |
| 5 | 3/15/23 - 6/24/23 |
| 6 | 3/7/23 - 6/24/23 |
| 7 | 3/1/23 - 6/24/23 |
| 8 | 2/22/23 - 6/24/23 |
| 9-10 | 2/15/23 - 6/24/23 |
| Last Order Date | 6/20/2023 |

House Plants

| Zones | Shipping Dates | Last Order Date |
| --- | --- | --- |
| 3AB - 6AB | 4/11/23 - 6/3/23 | 6/14/2023 |
| 7AB - 10AB | 3/14/23 - 6/3/23 | 6/14/2023 |

Hedges and Shrubs

| Zones | Shipping Dates | Last Order Date |
| --- | --- | --- |
| 3A - 4B | 4/18/23 - 5/20/23 | 5/16/23 |
| 5A | 3/28/23 - 5/20/23 | 5/16/23 |
| 5B | 3/14/23 - 5/20/23 | 5/16/23 |
| 6A | 3/7/23 - 5/20/23 | 5/16/23 |
| 6B | 2/28/23 - 5/20/23 | 5/16/23 |
| 7A - 7B | 2/21/23 - 5/20/23 | 5/16/23 |
| 8A - 8B | 2/14/23 - 4/29/23 | 4/25/23 |
| 9A - 10B | 2/7/23 - 4/29/23 | 4/25/23 |

Shipping & Handling Charges

| Total Order | Add |
| --- | --- |
| Up to $40.00 order | $9.95 |
| $40.01 to $60.00 | $12.95 |
| $60.01 to $80.00 | $14.95 |
| $80.01 to $100.00 | $16.95 |
| $100.01 to over | $18.95 |
See our shipping information page for approximate ship dates and more detailed information. If you have any questions, please call Customer Service at (513) 354-1512 or contact us at service@brecks.com.
Planting Video: Step by Step
---