Breck's® Legacy Trillium Collection
Shop plants best for your
Hardiness Zone
* Your final payment amount will be calculated at the time of checkout.
Breck's® Legacy Trillium Collection Description
Flowers That Flourish in the ShadeShade Lovers That Are Native to the U.S.
Trilliums, which are members of the lily family, are known by many common names, including wake robin, birthroot, birthwort and wood lily. Of the world's 43 known trillium species, 38 are native to the U.S. They are primarily found in the wild in the East and Southeast, where they are crucial to maintaining the vitality of woodland areas.
While the blooms of these simplelooking flowering plants consist of just three petals and three leaves, these shade-loving perennials can be colourful—even downright stunning. Trilliums are excellent naturalizers that spread easily and live for decades, so many gardeners use them as ground cover in rock gardens or for planting in groves of shade trees. What's more, their pleasing fragrance attracts butterflies, hummingbirds and honeybees to the landscape.
A triple trifecta of trilliums —just for you! Presenting our new Legacy Trillium Collection featuring three plants from each of three spectacular varieties. They are guaranteed to add pops of low-growing springtime colour to those darkened corners of the yard.
Plant these gorgeous, versatile plants as ground cover in a sun-dappled rock garden, beneath a stand of shade trees or next to some shrubs. Because the trilliums in this collection naturalize very well and live for decades, you will enjoy them for years to come in ever-increasing numbers!
This collection contains three of each below varieties.
Great White: This showiest of trilliums produces extraordinary blooms that open pure white and then fade to a blush pink, and have sunny yellow eyes. Blooms measure about 3" across and can be larger on well-established plants. These aromatic, delicate blooms attract pollinators. Height: 12–15"
Yellow: Beloved for its elegant simplicity and pretty blooms, Yellow's faintly lemon-scented, 2" flowers appear atop three-leaf whorls that are often gorgeously mottled but tends to die back by midsummer. Thrives in moist woodland gardens or deeply shaded areas. Height: 6–12"
Toad: An ideal variety for planting in a deeply shaded corner of a flower garden or for growing in the shade of a stand of trees. Features egg-shaped, dark green leaves measuring up to 4" long and beautifully mottled with purple or white. Has fragrant, maroon, 2" blooms. Height: 8–12"
Details
Botanical Name

Trillium Collection

Form

Rhizome

Hardiness Zone

4-8

Flowering Time

Mid to late spring.

Light Requirements

Partial Shade, Full Shade

Flower Color

Various, see individual varieties for details

Flower Form

All Trilliums can be identified by having 3 flower petals and 3 leaves(lobes). Flowers are approx. 3" in diameter, sometimes even larger on established plants.

Foliage Type

Various kind of leaves

Growth Rate

Slow
Height/Habit

6 - 15 inches

Spread

8 - 12 inches

Planting Instructions

Plant so that the top of the root (sprout) is 1" below the soil line. Firm soil and water well.

Soil Requirements

Moist, well-drained, deeply organic soil is best.

Will Tolerate

Acidic Soil, Clay Soil, Loamy Soil, Sandy Soil

Pruning

None. Picking a trillium flower does not necessarily kill the plant but damage will result if the green leaves are taken as well. The green leaves are needed to provide nutrients for the plants to survive.
Growing Tips for Breck's® Legacy Trillium Collection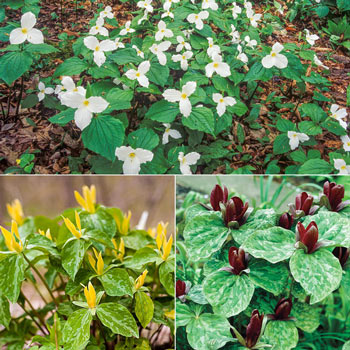 Customer Reviews
Questions & Answers
Shipping
Upon placing your order you will receive an email confirmation with the details of your order and a shipping estimate. You will also receive an email notification when your order actually ships with an updated arrival estimate. If you have ordered multiple items, you may receive them in more than one shipment. We will send you a separate email confirming each shipment.
At any time after you place your order you can check your order status on our website using your email or the account number found in your order confirmation email.
The type of product you order or the weather in our area or your area may affect the anticipated shipping schedule below.
Based on the contents of your order we always strive to ship your order complete, and as early as possible in the planting season to allow for the best root development once planted.
To promote optimum stress protection in transit and your success in the garden, bareroot perennials are kept in the ground in our nurseries until fully dormant. In the Fall these plants tend to arrive at the later end of the shipping window above.
In all cases, we choose the fastest, most efficient way to delivery your orders via the USPS or FedEx based on your hardiness zone.. Large orders may be shipped in more than one package.
Bulb and perennial shipments direct from Holland are harvested in July and August dependent on the season and crop. Once fully inspected and packaged they are shipped direct to you in the most efficient manner to follow the dates above.
Garden hardgoods and Gift Certificates ship with in 4-7 day.
We will pack and ship your order based on the following schedule.
Please note that we cannot ship outside the 48 contiguous states.
FALL Shipping Schedule
Bulbs from Holland

Zones
Shipping Dates
3AB - 7AB
9/19/22 - 11/25/22
8AB - 10AB
9/19/22 - 11/25/22
Last Order Date
11/21/22

Bareroot Perennials

| Zones | Shipping Dates |
| --- | --- |
| 3 - 6 | 9/5/22 - 10/28/22 |
| 7 - 10 | 9/26/22 - 11/11/22 |
| Last Order Date | 11/7/2022 |

5" Potted Roses

| Zones | Shipping Dates |
| --- | --- |
| 1AB - 10B | 8/17/21 - 9/18/21 |
| Last Order Date | 9/14/2021 |

Hedges and Shrubs

| Zones | Shipping Dates | Last Order Date |
| --- | --- | --- |
| 3 - 7 | 10/3/22 - 11/4/22 | 10/31/22 |
| 8 - 10 | 10/3/22 - 11/18/22 | 11/14/22 |

House Plants

| Zones | Shipping Dates | Last Order Date |
| --- | --- | --- |
| 3AB - 6AB | 7/11/22 - 10/21/22 | 10/17/2022 |
| 7AB - 10AB | 7/11/22 - 11/4/22 | 10/31/22 |

Shipping & Handling Charges

| Total Order | Add |
| --- | --- |
| Up to $40.00 order | $9.95 |
| $40.01 to $60.00 | $12.95 |
| $60.01 to $80.00 | $14.95 |
| $80.01 to $100.00 | $16.95 |
| $100.01 to over | $18.95 |
See our shipping information page for approximate ship dates and more detailed information. If you have any questions, please call Customer Service at (513) 354-1512 or contact us at service@brecks.com.
---