Perfect Planter Succulent Collection
Shop plants best for your
Hardiness Zone
* Your final payment amount will be calculated at the time of checkout.
Perfect Planter Succulent Collection Description
Add year-round natural beauty indoors
If you've been searching for a selection of easy-to-grow plants that add year-round beauty and colour to your indoor décor, then look no further. Our Perfect Planter Succulent Collection features five incredible varieties that will produce a dream succulent planter for you. Four of the succulents form spiraling rosettes of fleshy leaves. The fifth, Peperomia prostrata, commonly called String of Turtles, provides contrast to the others as a vining plant with striking leaves resembling tiny turtle shells. Plants range in height from 1–8". Each variety ships in a 1.5" Ellepot made from degradable paper. Planter not included
This collection includes one of each of these varieties:
Peperomia prostrata: Small vining plant has fleshy, round leaves that form on pinkish-green strands. Commonly call String of Turtles because veining on leaves give them the look of tiny turtle shells. Grows 1" tall.
Sedum adolphii: Given lots of sunshine, its green-yellow leaves turn orange-red. Foliage is formed in rosettes, which shed outer leaves to make room for new leaves emerging from their centres. Grows 6–8" tall.
Pachyveria opalina: Rosettes are packed with smooth, thick leaves of pale blue-green. These leaves are tinged pink on their edges and tips, and blush more during long sunny periods. Grows 4–8" tall.
Echeveria Summer: A cold-hardy succulent with deep purple-blue foliage that can be grown outdoors year-round in hardiness zones 3–8. Try it in a sunny rockery or on a sunlit slope. Grows 4–6" tall.
Echeveria sagita: Densely packed, fleshy, pointed leaves of light green develop cotton candy-pink edges during long periods of sunlight. Summer brings small, yellow blooms. Grows 6–8" tall.
Details
Botanical Name

Peperomia, Sedum, Pachyveria, Echeveria

Form

Succulent

Hardiness Zone

9-11

Flowering Time

Spring and Summer

Light Requirements

Full Sun, Partial Shade

Flower Color

Green, purple, red
Height/Habit

2 - 6 inches

Soil Requirements

Well drained

Will Tolerate

Clay Soil, Dry Soil, Loamy Soil, Sandy Soil
Growing Tips for Perfect Planter Succulent Collection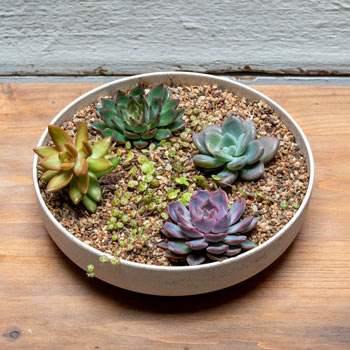 Customer Reviews
Questions & Answers
Shipping
Upon placing your order you will receive an email confirmation with the details of your order and a shipping estimate. You will also receive an email notification when your order actually ships with an updated arrival estimate. If you have ordered multiple items, you may receive them in more than one shipment. We will send you a separate email confirming each shipment.
At any time after you place your order you can check your order status on our website using your email or the account number found in your order confirmation email.
The type of product you order or the weather in our area or your area may affect the anticipated shipping schedule below.
Based on the contents of your order we always strive to ship your order complete, and as early as possible in the planting season to allow for the best root development once planted.
To promote optimum stress protection in transit and your success in the garden, bareroot perennials are kept in the ground in our nurseries until fully dormant. In the Fall these plants tend to arrive at the later end of the shipping window above.
In all cases, we choose the fastest, most efficient way to delivery your orders via the USPS or FedEx based on your hardiness zone.. Large orders may be shipped in more than one package.
Bulb and perennial shipments direct from Holland are harvested in July and August dependent on the season and crop. Once fully inspected and packaged they are shipped direct to you in the most efficient manner to follow the dates above.
Garden hardgoods and Gift Certificates ship with in 4-7 day.
We will pack and ship your order based on the following schedule.
Please note that we cannot ship outside the 48 contiguous states.
SPRING Shipping Schedule
Bareroot Perennials & Bulbs

| Zones | Shipping Dates |
| --- | --- |
| 3-4 | 3/22/22 - 6/11/22 |
| 5 | 3/15/22 - 6/11/22 |
| 6 | 3/7/22 - 6/11/22 |
| 7 | 3/1/22 - 6/11/22 |
| 8 | 2/22/22 - 6/11/22 |
| 9-10 | 2/15/22 - 6/11/22 |
| Last Order Date | 6/14/2022 |

House Plants

| Zones | Shipping Dates | Last Order Date |
| --- | --- | --- |
| 3AB - 6AB | 4/12/22 - 6/4/22 | 6/14/2022 |
| 7AB - 10AB | 3/15/22 - 6/4/22 | 6/14/2022 |

Hedges and Shrubs

| Zones | Shipping Dates | Last Order Date |
| --- | --- | --- |
| 3 - 7 | 5/3/22 | 5/31/2022 |
| 8 - 10 | 3/15/22 | 6/14/2022 |

Shipping & Handling Charges

| Total Order | Add |
| --- | --- |
| Up to $40.00 order | $9.95 |
| $40.01 to $60.00 | $12.95 |
| $60.01 to $80.00 | $14.95 |
| $80.01 to $100.00 | $16.95 |
| $100.01 to over | $18.95 |
See our shipping information page for approximate ship dates and more detailed information. If you have any questions, please call Customer Service at (513) 354-1512 or contact us at service@brecks.com.
---