Summerlong Lily Collection
Shop plants best for your
Hardiness Zone
* Your final payment amount will be calculated at the time of checkout.
Summerlong Lily Collection Description
The Summer Forecast: Lots of Lilies!There's a lot to love about lilies
Lilies are a gardener's dream. These hardy, easy-to-grow perennials naturalize easily, returning in greater numbers year after year. Some reach towering heights of 6' or more. Lily blooms share a basic, elegant appearance featuring large, triangular petals that open wide and curl back. Some are more exotic looking, with painted petals speckled with dots, while others feature more solid colouring and take on a regal form. Lily blooms do not just look delightful, but some release a fragrance that can be downright intoxicating!
For lily lovers, the only thing better than having their favourite flowers blooming in their gardens for part of the summer is having them bloom all season! That's why we created our new Summerlong Lily Collection. Included in this money-saving assortment are varieties with successive blooming periods that will provide a brilliant, nonstop display lasting the entire summer. First, Forever Susan Asiatic Lily and Pink Giant Tiger Lily will flower from early to midsummer, at which time African Queen Trumpet Lily will join in the colourful, floral fray. Finally, Stargazer Oriental Lily will bloom from mid to late summer!
This collection includes 3 each of the following varieties:
Forever Susan Asiatic Lily: Usher in the summer sun with this pretty, upward-facing lily. Presents a shiny, near-black look with vibrant orange tips and a plum-spotted orange throat. Grows 24-36" tall.


African Queen Trumpet Lily: Even the hottest temperatures don't faze this beauty! Huge, fragrant, trumpet-shaped blooms are soft apricot with broad strokes of bright tangerine at the centre. Grows 4-6' tall.


Pink Giant Tiger Lily: Light pink, 4" blooms have gracefully recurved petals speckled with black dots. Flowers are unscented but are nonetheless appealing to butterflies and hummingbirds. Grows 40" tall.


Stargazer Oriental Lily: Perhaps the world's most popular lily! Huge, skyward-pointing blooms boast an exotic beauty and a strong, intoxicating scent. Flowers reach 6-7" across with pink-red petals edged in white and freckled with dark pink. Grows 24-36" tall.
Details
Botanical Name

Lilium asiatic, oriental, tiger & trumpet

Form

Perennial

Hardiness Zone

3-8

Flowering Time

Early to late summer

Light Requirements

Full Sun, Partial Shade

Flower Color

Mixture of various colors; Orange, soft apricot, light pink, pink-red

Flower Form

Various petals and forms

Foliage Type

Various kind of foliage

Growth Rate

Medium
Height/Habit

24 - 72 inches

Spread

9 - 12 inches

Planting Instructions

6" deep and 9-12" apart

Soil Requirements

Prefers well drained soil, but will tolerate heavier soils.

Will Tolerate

Acidic Soil, Clay Soil, Loamy Soil, Sandy Soil

Pruning

Don't remove leaves until they have died down in fall. They help provide nourishment to the bulb for next season's blooms.
Growing Tips for Summerlong Lily Collection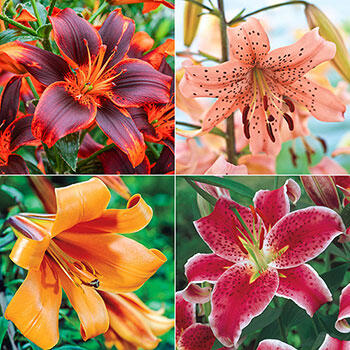 Customer Reviews
Questions & Answers
Shipping
Upon placing your order you will receive an email confirmation with the details of your order and a shipping estimate. You will also receive an email notification when your order actually ships with an updated arrival estimate. If you have ordered multiple items, you may receive them in more than one shipment. We will send you a separate email confirming each shipment.
At any time after you place your order you can check your order status on our website using your email or the account number found in your order confirmation email.
The type of product you order or the weather in our area or your area may affect the anticipated shipping schedule below.
Based on the contents of your order we always strive to ship your order complete, and as early as possible in the planting season to allow for the best root development once planted.
To promote optimum stress protection in transit and your success in the garden, bareroot perennials are kept in the ground in our nurseries until fully dormant. In the Fall these plants tend to arrive at the later end of the shipping window above.
In all cases, we choose the fastest, most efficient way to delivery your orders via the USPS or FedEx based on your hardiness zone.. Large orders may be shipped in more than one package.
Bulb and perennial shipments direct from Holland are harvested in July and August dependent on the season and crop. Once fully inspected and packaged they are shipped direct to you in the most efficient manner to follow the dates above.
Garden hardgoods and Gift Certificates ship with in 4-7 day.
We will pack and ship your order based on the following schedule.
Please note that we cannot ship outside the 48 contiguous states.
FALL Shipping Schedule
Bulbs from Holland

Zones
Shipping Dates
1AB - 7AB
8/12/21 - 12/13/21
8AB - 10AB
8/26/21 - 12/13/21
Last Order Date
12/07/2021

Bareroot Perennials

| Zones | Shipping Dates |
| --- | --- |
| 1AB - 10B | 9/15/21 - 11/29/21 |
| Last Order Date | 11/25/2021 |

5" Potted Roses

| Zones | Shipping Dates |
| --- | --- |
| 1AB - 10B | 8/17/21 - 9/18/21 |
| Last Order Date | 9/14/2021 |

Hedges and Shrubs

| Zones | Shipping Dates |
| --- | --- |
| 1A - 4B | 9/9/21 - 10/30/21 |
| 5A | 9/9/21 - 10/30/21 |
| 5B | 9/9/21 - 10/30/21 |
| 6A - 6B | 9/9/21 - 10/30/21 |
| 7A - 7B | 9/9/21 - 10/30/21 |
| 8A - 8B | 9/9/21 - 10/30/21 |
| 9A - 10B | 9/9/21 - 10/30/21 |
| Last Order Date | 10/26/2021 |

House Plants

| Zones | Shipping Dates | Last Order Date |
| --- | --- | --- |
| 3AB - 6AB | 7/6/21 - 10/23/21 | 10/19/2021 |
| 7AB - 10AB | 7/6/21 - 11/2/21 | 10/6/2021 |

Shipping & Handling Charges

| Total Order | Add |
| --- | --- |
| Up to $40.00 order | $9.95 |
| $40.01 to $60.00 | $12.95 |
| $60.01 to $80.00 | $14.95 |
| $80.01 to $100.00 | $16.95 |
| $100.01 to over | $18.95 |
See our shipping information page for approximate ship dates and more detailed information. If you have any questions, please call Customer Service at (513) 354-1512 or contact us at service@brecks.com.
---