New E-certificates
Give a gift any gardener will love!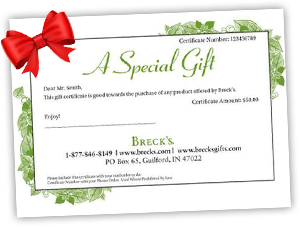 Deer Resistant Hedges
Deer are beautiful creatures, but we don't want them feeding on our plants--not even our hedges and shrubs. One of the best ways to deter deer is to plant hedges and shrubs they tend to avoid. No plant is totally deer proof, but the hedges and shrubs in our Ready, Set, Hedge!™ selection rarely suffer damage from foraging deer. What's more, these evergreen and deciduous varieties will enhance your landscape with long-lasting structure and beauty. Grown in the sandy, nutrient-rich soil of Holland, Michigan, they arrive at your door with large, healthy root systems loaded with fine root hairs. Consequently, they readily absorb soil nutrients and establish themselves more quickly than their potted, root-bound counterparts.