Classic Dinnerplate Dahlia Collection
Shop plants best for your
Hardiness Zone
* Your final payment amount will be calculated at the time of checkout.
Classic Dinnerplate Dahlia Collection Description
The biggest and the brightest dahlias shipped direct to you from Holland
These exotic giant dahlias would steal the show in any garden! And you will love them in your garden. Each #1 clump produces huge, vibrant 6-9" flowers on a plant that grows 36-48" tall. The blooms are magical, like giant, glowing garden torches waving in the breeze. We've selected 5 of the most spectacular dahlias ever grown in Holland for the Breck's Classic Dinnerplate Dahlia Collection. For a limited time, a select group of Breck's Preferred Customers will have the chance to plant these amazing dahlias in their own gardens in the spring.
Now, you can easily create this same enchanting beauty in your own garden with these majestic hybrids that perform reliably with so little attention. You don't need a green thumb to grow these improved Dinnerplate Dahlias. They are garden tested, easy to plant and deliver maximum enjoyment with a minimum of care.
An Extremely Long Blooming Season
Breck's giant Classic Dinnerplate Dahlias celebrate long, warm days in the sun! They begin flowering in early summer and keep on blooming well into fall—until the lingering frosts tell you winter is on its way.
Plant these tall, dazzling Dinnerplate Dahlias in your garden against a fence, wall or hedge. Use them at the back of a flower bed or border planting, surrounded by lower-growing dahlias or perennials. Or plant them en masse in a random fashion, 24-36" apart for a brilliant display. The 6-9" flowers will attract attention from a block away.
Classic Dinnerplate Dahlias Make Incredible Bouquets
Bring the colours of paradise into your home! Float one beautifully composed giant dahlia blossom in a shallow bowl of water to create a dramatic centrepiece. Or create a breathtaking arrangement of dahlias in a large vase. Use dahlias in both summer and fall flower arrangements. They look great all by themselves or mixed with other flowers, berries and fruits.
Why Breck's Dahlias Are Better Than The Rest
Breck's dahlias are grown in Holland, in the heart of the world-famous bulb district. Our staff of experts spends the entire year working with the leading Dutch growers, from selecting the finest, garden-tested varieties, through every phase of production. At harvest time, we individually inspect each dahlia clump, and we ship you only the cream of the crop. Other companies often divide the clumps to sell each tuber individually. Not Breck's. We leave them intact with at least 4 to 6 ready-to-grow tubers, assuring you of vigorous plants with lots of flowers! Even gardeners in Holland cannot obtain finer, healthier dahlia clumps for their own gardens.
IT'S EASY TO GROW GREAT DINNERPLATE DAHLIAS
To help your dahlias get off to a good start, we'll include a free Breck's Planting Handbook with your order. You can also download our free Dahlia Planting Handbook at Brecks.com/dahliaguide for even more information about properly growing and maintaining these incredible flowers!
Truly Spectacular in the Garden and Enchanting in Cut-Flower Bouquet
A stunning array of colours makes our Classic Dinnerplate Dahlias enticing, but it is their massive size that will impress you and your friends the most! Shown here actual size, each blossom measures 6–9" across.
The tall, sturdy plants grow uniformly to 36–48" tall and are laden with masses of huge blooms all season long. You will want to give them a special spot in your garden where you can take full advantage of their floral magic.
Make a beautiful, colourful statement in your garden with giant blooms that capture everyone's attention. These unique flowers add dazzling interest like nothing you've seen before!
This collection includes 2 each of the following varieties:
Garden Wonder: Big, skyrocket red blooms make a big impact in your garden. Kaboom! The 6" flowers are glorious, and the bush produces loads of them all season long! Grows 36-48" tall.


Fleurel: Delicate shades of cream trace the centers of elegant white petals on each 7" bloom. This is the queen of white dahlias! Grows 36-48" tall.


Kelvin Floodlight: Incredible 7-9" golden-yellow blooms are more intense than sunshine. The most spectacular yellow dahlia ever developed, award-winning Kelvin Floodlight grows 36-48" tall.


Thomas Edison: Huge, radiant, fantastic flowers are 7-8" across. Immense size and prolific blooming make this the finest of all purple dahlias. Grows 36-48" tall.


Mrs. Eileen: This is the first sizzling orange dahlia of true dinner-plate size! Enjoy the radiant splendor of each 7" bloom. Grows 36-48" tall.
Details
Botanical Name

Dahlia decorative

Form

Perennial (tuber)

Hardiness Zone

3-10

Lift in Fall

3-8

Flowering Time

Midsummer to first frost

Light Requirements

Full Sun

Flower Color

Collection of various colors

Flower Form

Fully double without a central disc

Foliage Type

Pinnate leaves with ovate leaflets

Growth Rate

Fast
Height/Habit

36 - 48 inches

Spread

24 - 36 inches

Planting Instructions

2" deep and 24 - 36" apart

Soil Requirements

Well drained

Will Tolerate

Acidic Soil, Clay Soil, Loamy Soil, Sandy Soil

Pruning

Pinching of the secondary bud will produce larger flowers.
Growing Tips for Classic Dinnerplate Dahlia Collection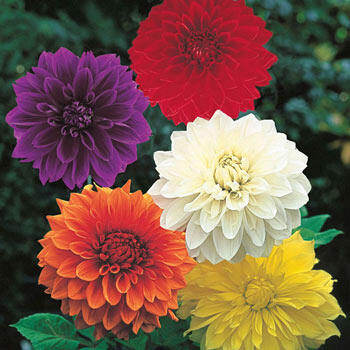 Customer Reviews
Questions & Answers
Shipping
Upon placing your order you will receive an email confirmation with the details of your order and a shipping estimate. You will also receive an email notification when your order actually ships with an updated arrival estimate. If you have ordered multiple items, you may receive them in more than one shipment. We will send you a separate email confirming each shipment.
At any time after you place your order you can check your order status on our website using your email or the account number found in your order confirmation email.
The type of product you order or the weather in our area or your area may affect the anticipated shipping schedule below.
Based on the contents of your order we always strive to ship your order complete, and as early as possible in the planting season to allow for the best root development once planted.
To promote optimum stress protection in transit and your success in the garden, bareroot perennials are kept in the ground in our nurseries until fully dormant. In the Fall these plants tend to arrive at the later end of the shipping window above.
In all cases, we choose the fastest, most efficient way to delivery your orders via the USPS or FedEx based on your hardiness zone.. Large orders may be shipped in more than one package.
Bulb and perennial shipments direct from Holland are harvested in July and August dependent on the season and crop. Once fully inspected and packaged they are shipped direct to you in the most efficient manner to follow the dates above.
Garden hardgoods and Gift Certificates ship with in 4-7 day.
We will pack and ship your order based on the following schedule.
Please note that we cannot ship outside the 48 contiguous states.
SPRING Shipping Schedule
Bareroot Perennials & Bulbs

| Zones | Shipping Dates |
| --- | --- |
| 3-4 | 3/22/22 - 6/11/22 |
| 5 | 3/15/22 - 6/11/22 |
| 6 | 3/7/22 - 6/11/22 |
| 7 | 3/1/22 - 6/11/22 |
| 8 | 2/22/22 - 6/11/22 |
| 9-10 | 2/15/22 - 6/11/22 |
| Last Order Date | 6/14/2022 |

House Plants

| Zones | Shipping Dates | Last Order Date |
| --- | --- | --- |
| 3AB - 6AB | 4/12/22 - 6/4/22 | 6/14/2022 |
| 7AB - 10AB | 3/15/22 - 6/4/22 | 6/14/2022 |

Hedges and Shrubs

| Zones | Shipping Dates | Last Order Date |
| --- | --- | --- |
| 3 - 7 | 5/3/22 | 5/31/2022 |
| 8 - 10 | 3/15/22 | 6/14/2022 |

Shipping & Handling Charges

| Total Order | Add |
| --- | --- |
| Up to $40.00 order | $9.95 |
| $40.01 to $60.00 | $12.95 |
| $60.01 to $80.00 | $14.95 |
| $80.01 to $100.00 | $16.95 |
| $100.01 to over | $18.95 |
See our shipping information page for approximate ship dates and more detailed information. If you have any questions, please call Customer Service at (513) 354-1512 or contact us at service@brecks.com.
Planting Video: Step by Step
---