Dinner Plate Japanese Iris Collection
Dinner Plate Japanese Iris Collection
No Iris Has Bigger Blooms
The impressive, robust plants in our new Dinner Plate Japanese Iris Collection will amaze you and everyone else who encounters them—even other gardeners who grow Japanese irises. Quite simply, our flower experts selected these special varieties because of the remarkable size of their gorgeous blooms. They reach at least 6" across—about the size of a small dinner plate and twice as large as typical Japanese irises. Their stems grow 36-40". While there is no better choice for a waterside planting, these beauties also grow easily in most types of regular soil, as long as it is not allowed to dry out.
They're extremely hardy and grow and bloom decade after decade. You don't even have to give them special attention, such as protection from harsh winter weather.

Our Dinner Plate irises produce enormous, stately blooms, much bigger than standard Japanese irises. In fact, these plants are among the few perennials that not only tolerate poorly drained soil, but actually thrive in it. Plant Japanese irises en masse near a pond or stream, and then prepare to be amazed by the bevy of beautiful blooms that will emerge year after year.

Collection includes each one of: Cheesecake, Blueberry Pie, Jell-O, Tiramisu, Ice Cream
Cheesecake: Try planting groups of this sweet treat in borders or beds. You'll be blessed with delightful, double blooms that are white with rich purple stripes and stipples. Makes a wonderful addition to cut-flower arrangements, too. This naturalizing iris will readily return each year with increased flower power. Grows 36-40" tall.
Blueberry Pie: You'll adore what this Japanese iris does for sun-splashed borders and garden beds. It's sure to impress visitors with its lovely layered form and vibrant colour palette in shades of purple and blue. Each bloom bears a yellow centre that really pops amid those hues. A born naturalizer that returns yearly with greater vigour. Grows 36-40" tall.
Jell-O: Huge flowers are nicely fragrant with vibrant purple-pink hues and dramatic white stripes. Double-petaled flowers have a classic Japanese iris appearance that creates a wonderful display whether used indoors or outdoors. A gorgeous, easy-to- grow addition to a border, bouquet or waterside planting. Grows 36-40" tall.
Tiramisu: Its clean white flowers are speckled and edged in pink, giving a soft yet spectacular effect to borders, cutting gardens and naturalized settings. Bring a bunch indoors to perk up the kitchen, dining room or living room décor. Grows 36-40".
Ice Cream: Add a light and airy feel to your water garden for years to come with this big perennial. Its double blooms are azure with yellow highlights near the centre and white banding along the edges. Its delightful scent and handsome appearance make it ideal for bouquets. Grows 36-40" tall.
Breck's® Dinner Plate™ Japanese Iris Collection
76810
5 for $92.95

$49.99
We ship this item in Spring.
Dinner Plate™ Japanese Iris Collection
We ship this item in Fall.
Details
Growing Tips for Dinner Plate Japanese Iris Collection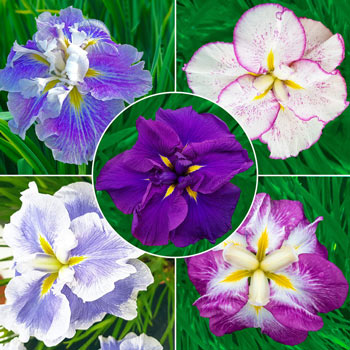 Shipping
Upon placing your order you will receive an email confirmation with the details of your order and a shipping estimate. You will also receive an email notification when your order actually ships with an updated arrival estimate. If you have ordered multiple items, you may receive them in more than one shipment. We will send you a separate email confirming each shipment.
At any time after you place your order you can check your order status on our website using your email or the account number found in your order confirmation email.
The type of product you order or the weather in our area or your area may affect the anticipated shipping schedule below.
Based on the contents of your order we always strive to ship your order complete, and as early as possible in the planting season to allow for the best root development once planted.
To promote optimum stress protection in transit and your success in the garden, bareroot perennials are kept in the ground in our nurseries until fully dormant. In the Fall these plants tend to arrive at the later end of the shipping window above.
In all cases, we choose the fastest, most efficient way to delivery your orders via the USPS or FedEx based on your hardiness zone.. Large orders may be shipped in more than one package.
Bulb and perennial shipments direct from Holland are harvested in July and August dependent on the season and crop. Once fully inspected and packaged they are shipped direct to you in the most efficient manner to follow the dates above.
Garden hardgoods and Gift Certificates ship with in 4-7 day.
We will pack and ship your order based on the following schedule.
Please note that we cannot ship outside the 48 contiguous states.
---