Breck's® Rainbow Iris Collection
Breck's® Rainbow Iris Collection
Light

Full Sun, Partial Shade

Size

Rhizomes

Zone

4-9

Bloom Time

Mid to late spring

Height

33 - 38 inches

Soil Requirement

Well drained preferred. Quite tolerant of a wide range of soils although.

Deer Resistant
We'll carefully pack and ship your order at the proper planting time for your hardiness zone.
How many plants do I need?
Shop plants best for your
Hardiness Zone
* Your final payment amount will be calculated at the time of checkout.
Breck's® Rainbow Iris Collection Description
A Rainbow of Colourful Iris at Unbeatable Savings!
Did you know that iris is the Greek word for rainbow? It's true! And since there are seven essential colours that comprise a rainbow, it's only fitting that our Rainbow Iris Collection brings you seven exceptionally colourful varieties.
Colourful and Carefree!
Irises are some of the most stunning perennials you can plant—and also some of the easiest to grow! In late summer or early fall, simply plant your rhizomes 24" apart in sun-soaked or partly shaded, well-drained soil. Then, get set to watch a kaleidoscope of hues burst forth in mid to late spring.
Once planted, your bearded irises will be remarkably self-sufficient, giving you a bounty of fuss-free beauty. Winter hardy in zones 4−9, irises multiply annually and will return year after year with greater abundance and more colour intensity.
A Cut Above the Rest
Irises are not only must-haves in the garden, they make long-lasting cut flowers, too! For the best bouquets, cut your irises early in the day when the buds are just opening. Place them in a bucket of tepid water, and re-cut the stems one inch higher, at an angle, keeping the stems under water as you cut.
No matter how you enjoy your irises, one thing is for sure—you will not be disappointed when you order from Breck's!
Iris Anatomy 101
With literally thousands of tall bearded iris varieties in the world, it helps to identify these beautiful blossoms by their three main parts:
Standards—
The three upper iris petals that stand at attention, curving to meet each other at their highest point. Standards can be ruffled or lacy, solid or multi-coloured.
Beards—
The fuzzy flower accents that look like colourful caterpillars! Beards not only give the bearded iris its name, they help guide pollinators to the treasure trove of nectar inside.
Falls—
Often a contrasting colour to the standards, the falls consist of three downward curving petals that highlight the beards and complete the distinctive iris look!
Haft—
The top part of the falls, where it connects to the rest of the flower. Hafts often have special markings not seen on the rest of the flower.
This collection includes one each of the following varieties:
Starring:
Nearly black, velvety falls showcase pristine white standards for a stunning, high-contrast effect. Bright tangerine beards add a pop of colour to this frilly, mostly black-and-white delight. Grows 33" tall.
Social Graces:
With its orchid-pink colouring and lacy edges, the full and rounded flowers of this award winner draw lots of attention in yards and vases. Sweetly scented. Grows 36-38" tall.
Megabucks:
Boldly combines bright golden standards with falls of vibrant fuchsia outlined by a ¼" rim of butterscotch. Well-branched stems yield 8-9 double-socketed buds. An award winner. Grows 34" tall.
Merchant Marine:
Large, very ruffled blooms are completely saturated in rich azure blue. A robust plant and exceptional bloomer, it's great in back of a border. Award winner. Grows 36-38" tall.
Ink Patterns:
Winner of several awards, including the Wister Medal. Striking flowers are bright white with blue-violet edging. White beards are tipped blue-violet. Blooms release a wonderful fragrance. Ink Patterns will add incredible colour to your garden for many years to come. Grows 36" tall.
Mango Entrée:
Heavily ruffled blooms boast a juicy mango-orange hue. Add to that its statuesque height, and this iris is perfect for back borders, lush bouquets and dramatic mass plantings. Grows 38" tall.
Slovak Prince:
Frilled, fragrant blooms dazzle with white, goldenrimmed standards that rise above deep purple falls with white marbling at the hafts. Winner of prestigious Wister Medal. Grows 33" tall.
Details
Botanical Name

Iris germanica

Form

Perennial

Hardiness Zone

4-9

Flowering Time

Mid to late spring

Light Requirements

Full Sun, Partial Shade

Flower Color

Collection of various colors

Flower Form

Flowers are fan-shaped, with three drooping petals called falls and three upright petals called standards.

Foliage Type

Glaucous-green, sword-like fans of stiff upright leaves with some dying back in colder climates in winter.

Growth Rate

Medium
Height/Habit

33 - 38 inches

Spread

24 inches

Planting Instructions

Set rhizome so bottom half is below ground level. Firm well and water thoroughly. Plant where they will get at least 5 hours of sun per day.

Soil Requirements

Well drained preferred. Quite tolerant of a wide range of soils although.

Will Tolerate

Acidic Soil, Clay Soil, Loamy Soil, Sandy Soil

Pruning

Remove spent flower stems after blooming. In late fall, cut back foliage to 6" fans. Clean plant debris before winter to prevent borers overwintering.
Growing Tips for Breck's® Rainbow Iris Collection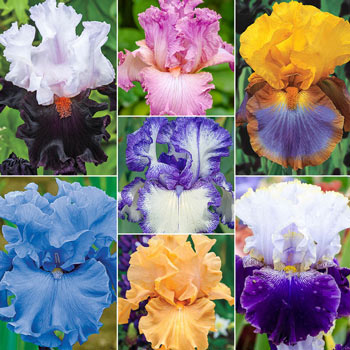 Customer Reviews
Questions & Answers
Shipping
Upon placing your order you will receive an email confirmation with the details of your order and a shipping estimate. You will also receive an email notification when your order actually ships with an updated arrival estimate. If you have ordered multiple items, you may receive them in more than one shipment. We will send you a separate email confirming each shipment.
At any time after you place your order you can check your order status on our website using your email or the account number found in your order confirmation email.
The type of product you order or the weather in our area or your area may affect the anticipated shipping schedule below.
Based on the contents of your order we always strive to ship your order complete, and as early as possible in the planting season to allow for the best root development once planted.
To promote optimum stress protection in transit and your success in the garden, bareroot perennials are kept in the ground in our nurseries until fully dormant. In the Fall these plants tend to arrive at the later end of the shipping window above.
In all cases, we choose the fastest, most efficient way to delivery your orders via the USPS or FedEx based on your hardiness zone.. Large orders may be shipped in more than one package.
Bulb and perennial shipments direct from Holland are harvested in July and August dependent on the season and crop. Once fully inspected and packaged they are shipped direct to you in the most efficient manner to follow the dates above.
Garden hardgoods and Gift Certificates ship with in 4-7 day.
We will pack and ship your order based on the following schedule.
Please note that we cannot ship outside the 48 contiguous states.
FALL Shipping Schedule
Iris

| Zones | Shipping Dates | Last Order Date |
| --- | --- | --- |
| 3AB - 7A | 10/4/21 - 11/12/21 | 11/8/2021 |
| 7B - 10B | 10/4/21 - 11/26/21 | 11/22/2021 |

Bulbs from Holland

Zones
Shipping Dates
3AB - 7AB
8/9/21 - 12/10/21
8AB - 10AB
8/23/21 - 12/10/21
Last Order Date
12/06/2021

Bareroot Perennials

| Zones | Shipping Dates |
| --- | --- |
| 3AB - 10B | 9/13/21 - 11/26/21 |
| Last Order Date | 11/22/2021 |

5" Potted Roses

| Zones | Shipping Dates |
| --- | --- |
| 1AB - 10B | 8/17/21 - 9/18/21 |
| Last Order Date | 9/14/2021 |

Hedges and Shrubs

| Zones | Shipping Dates |
| --- | --- |
| 1A - 4B | 9/9/21 - 10/30/21 |
| 5A | 9/9/21 - 10/30/21 |
| 5B | 9/9/21 - 10/30/21 |
| 6A - 6B | 9/9/21 - 10/30/21 |
| 7A - 7B | 9/9/21 - 10/30/21 |
| 8A - 8B | 9/9/21 - 10/30/21 |
| 9A - 10B | 9/9/21 - 10/30/21 |
| Last Order Date | 10/26/2021 |

House Plants

| Zones | Shipping Dates | Last Order Date |
| --- | --- | --- |
| 3AB - 6AB | 7/6/21 - 11/6/21 | 11/2/2021 |
| 7AB - 10AB | 7/6/21 - 11/16/21 | 11/2/2021 |

Shipping & Handling Charges

| Total Order | Add |
| --- | --- |
| Up to $40.00 order | $9.95 |
| $40.01 to $60.00 | $12.95 |
| $60.01 to $80.00 | $14.95 |
| $80.01 to $100.00 | $16.95 |
| $100.01 to over | $18.95 |
See our shipping information page for approximate ship dates and more detailed information. If you have any questions, please call Customer Service at (513) 354-1512 or contact us at service@brecks.com.
---