Lotus Lily Collection
No stains, no sneezing—just remarkable floral beauty.
Not only can these luxurious double flowers be left in the ground to naturalize, their anthers are replaced by the extra petals, so the blooms don't release any pollen. This means no more yucky pollen stains on clothing or furniture, and allergy sufferers can enjoy these gorgeous, colourful flowers up close!

Includes 3 each of the following lily varieties:
Lotus Dream—Moderate purplish-pink hues are accented by a yellow-white flare from the throat to halfway up the mid veins. Stunning, fragrant blooms can reach 6" across.
Lotus Beauty—Not your typical white lily. A sprinkling of pale purple adorns the petals of the double, 5" blooms. A touch of green is apparent in the throat.
Lotus Elegance—The largest blooms in the collection, reaching nearly 7" across! Perfectly pastel flowers feature ruffled edges, dark pink spots and a white throat.

Pollen-free, perfumed blooms from perennial bulbs
Perfected by our friends and Holland neighbors at Lily Company B.V., Lotus Lilies produce huge, outward-facing flowers from bulbs that perennialize well—so with a single planting, you'll get even more flowers each year! Favoured by cut-flower enthusiasts for their beauty, pollen-free nature and sweet fragrance, these remarkable lilies won't stain clothes and tables or aggravate pollen allergies. We've brought together all three of these very special Lotus Lily varieties for one low price.

Everything You Love...Nothing You Don't
Featuring twice the petals of standard oriental lilies but none of the pesky pollen, Lotus Lilies will be a welcome sight (and scent) nearly anywhere. They add elegance to cut arrangements and elevate summer borders with their statement-making pastel blooms. Allergy sufferers agree that the exceptional qualities of these remarkable lilies are nothing to sneeze at:
• Big, fully double, lotus-shaped blooms.
• Large bulbs produce 3 to 6 flowers each.
• Pollen-free—great for cutting gardens.
• Flowers have a strong, sweet scent.
Details
Growing Tips for Lotus Lily Collection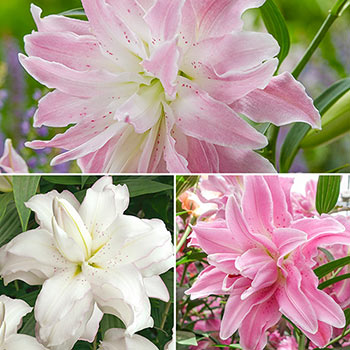 Shipping
Upon placing your order you will receive an email confirmation with the details of your order and a shipping estimate. You will also receive an email notification when your order actually ships with an updated arrival estimate. If you have ordered multiple items, you may receive them in more than one shipment. We will send you a separate email confirming each shipment.
At any time after you place your order you can check your order status on our website using your email or the account number found in your order confirmation email.
The type of product you order or the weather in our area or your area may affect the anticipated shipping schedule below.
Based on the contents of your order we always strive to ship your order complete, and as early as possible in the planting season to allow for the best root development once planted.
To promote optimum stress protection in transit and your success in the garden, bareroot perennials are kept in the ground in our nurseries until fully dormant. In the Fall these plants tend to arrive at the later end of the shipping window above.
In all cases, we choose the fastest, most efficient way to delivery your orders via the USPS or FedEx based on your hardiness zone.. Large orders may be shipped in more than one package.
Bulb and perennial shipments direct from Holland are harvested in July and August dependent on the season and crop. Once fully inspected and packaged they are shipped direct to you in the most efficient manner to follow the dates above.
Garden hardgoods and Gift Certificates ship with in 4-7 day.
We will pack and ship your order based on the following schedule.
Please note that we cannot ship outside the 48 contiguous states.
Planting Video: Step by Step
---