Prima Donna™ Begonia Collection
Prima Donna™ Begonia Collection
Big flowers for a big show
Not long ago, our team of buyers Took our annual tour of test gardens Around Noordwijkerhout, our home Base here in Holland. About a two hour Drive away in neighbouring Belgium, we discovered something That really took our breath away!
Prima donna
™
begonias are some of the most prolific and largest begonia Flowers we have ever seen, even After so many years in the business. Of course, when we saw them, we Instantly realized how popular they Could become in the united states. We couldn't wait to make them available To our customers who appreciate Something a little more dramatic.
Give these lovely giants centre stage In your garden, and you'll soon see Why we call them 'prima donna' as They steal the limelight from all other shade-growing perennials!
Deserve Centre Stage in Your Garden
Exquisite Colours
The eye-catching hues of our Prima Donna Begonias are unlike anything you have ever seen. An incredible mix of soft solid colours and luscious two toned combinations will add a European flavour to your garden scene.
Outstanding Value
Breck's
™
is the leading exporter of Holland's finest bulbs and plants for American gardens. Because we export in such large quantities, we can afford to offer you a very competitive price for these fabulous plants.
Easy to Grow!
Begonias bloom all summer and fall until the first frost, and thrive without being pampered. They are ideal for partial or full shade, but may even be grown in sun. Plant 1" deep (just below the surface) in moist soil with the hollow side up. In beds and borders, plant tubers about 10" apart. For early blooming, start your begonias indoors and transplant when the plants are 2-3" high and danger of frost has passed. Pinch off side buds to produce larger blooms. During the summer, don't worry about pruning the many blossoms because when new blooms appear, old ones simply drop off! If you live in a cold climate, lift and store the tubers in a dry, dark and frost-free location for winter. Replant in the spring for an all-new explosion of colour.
Double, ruffled, giant 6-8" ruffled double blooms stand out atop strong 16-20" stems. In fact, these are the very largest of all upright begonias. Each bloom offers double the usual number of flower petals, all elegantly ruffled, spiraling toward a tight whirl of intense colour at the centre. These flowers are utterly charming in containers of all types — pots, pedestal planters, window boxes, whiskey barrels—and add extra flair around the patio, walkways or under shady trees.
This collection includes 2 each of the following varieties:
Picotee White with Pink
Orange
Red
Picotee Yellow with Red
Light

Partial Shade, Full Shade

Size

Tubers

Zone

3-10. Lift in Fall in zones 3-7

Bloom Time

Summer till first frost

Height

16 - 20 inches

Soil Requirement

Well drained
We'll carefully pack and ship your order at the proper planting time for your hardiness zone.
Item 64060 cannot ship to: AE AK GU HI PR
Details
Botanical Name

Collection of various Begonia tuberosa Prima Donna™

Form

Tuber

Hardiness Zone

3-10

Lift in Fall

3-7

Flowering Time

Summer till first frost

Light Requirements

Partial Shade, Full Shade

Flower Color

Collection of various colors

Flower Form

6 - 8" double rounded blooms with ruffled edges

Foliage Type

Medium green fleshy leaves with serrated edges.

Growth Rate

Medium
Height/Habit

16 - 20 inches

Spread

10 - 12 inches

Planting Instructions

1" deep and 10-12" apart

Soil Requirements

Well drained

Will Tolerate

Acidic Soil, Clay Soil, Loamy Soil, Sandy Soil

Pruning

After blooming, cut the withered flower at the top of the stem to prevent seed production and then allow the leaves to wither and turn brown before removing them. The green leaves provide nourishment for the plants.
Growing Tips for Prima Donna™ Begonia Collection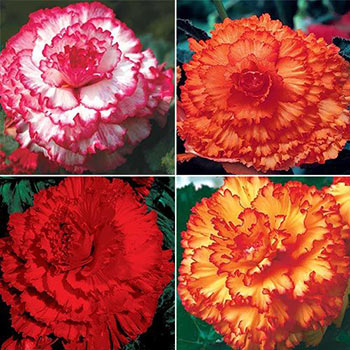 Shipping
Upon placing your order you will receive an email confirmation with the details of your order and a shipping estimate. You will also receive an email notification when your order actually ships with an updated arrival estimate. If you have ordered multiple items, you may receive them in more than one shipment. We will send you a separate email confirming each shipment.
At any time after you place your order you can check your order status on our website using your email or the account number found in your order confirmation email.
The type of product you order or the weather in our area or your area may affect the anticipated shipping schedule below.
Based on the contents of your order we always strive to ship your order complete, and as early as possible in the planting season to allow for the best root development once planted.
To promote optimum stress protection in transit and your success in the garden, bareroot perennials are kept in the ground in our nurseries until fully dormant. In the Fall these plants tend to arrive at the later end of the shipping window above.
In all cases, we choose the fastest, most efficient way to delivery your orders via the USPS or FedEx based on your hardiness zone.. Large orders may be shipped in more than one package.
Bulb and perennial shipments direct from Holland are harvested in July and August dependent on the season and crop. Once fully inspected and packaged they are shipped direct to you in the most efficient manner to follow the dates above.
Garden hardgoods and Gift Certificates ship with in 4-7 day.
We will pack and ship your order based on the following schedule.
Please note that we cannot ship outside the 48 contiguous states.
SPRING Shipping Schedule
Bulbs and Bareroots

| Zones | Shipping Dates | Last Order Date |
| --- | --- | --- |
| 3A - 4B | 4/29/24 - 5/31/24 | 5/27/24 |
| 5A | 4/8/24 - 5/31/24 | 5/27/24 |
| 5B | 3/25/24 - 5/31/24 | 5/27/24 |
| 6A | 3/11/24 - 5/31/24 | 5/27/24 |
| 6B | 2/26/24 - 5/31/24 | 5/27/24 |
| 7A | 2/22/24 - 5/31/24 | 5/27/24 |
| 7B | 2/19/24 - 5/31/24 | 5/27/24 |
| 8A | 2/15/24 - 5/10/24 | 5/6/24 |
| 8B | 2/12/24 - 5/10/24 | 5/6/24 |
| 9A - 10B | 2/5/24 - 5/10/24 | 5/6/24 |

Shipping & Handling Charges

| Total Order | Add |
| --- | --- |
| Up to $40.00 order | $10.95 |
| $40.01 to $60.00 | $14.95 |
| $60.01 to $80.00 | $16.95 |
| $80.01 to $100.00 | $18.95 |
| $100.01 to over | $20.95 |
See our shipping information page for approximate ship dates and more detailed information. If you have any questions, please call Customer Service at (513) 354-1512 or contact us at service@brecks.com.
Planting Video: Step by Step
---