Breck's® Renowned Batik Iris Collection
Breck's® Renowned Batik Iris Collection
Light

Full Sun, Partial Shade

Size

Rhizomes

Zone

4-9

Bloom Time

Early, midseason and late flowering. Some will even reblooms late summer/fall. (Mid to late spring, re-blooms late summer to early fall)

Height

24 - 38 inches

Soil Requirement

Well drained preferred. Quite tolerant of a wide range of soils although.

Deer Resistant
We'll carefully pack and ship your order at the proper planting time for your hardiness zone.
How many plants do I need?
Shop plants best for your
Hardiness Zone
* Your final payment amount will be calculated at the time of checkout.
Breck's® Renowned Batik Iris Collection Description
Breathtaking Additions to Your Borders in Late Spring.

Batik Iris beautifully fill empty spaces in full sun to partial shade, their swordlike leaves growing in attractive fans. Capable of crowding out weeds, they are often planted en masse, or in a thick row, so as to form a lush border. In large gardens, it is not uncommon to see mass plantings in the range of 100 to 150 bearded iris. Since our Batik varieties multiply annually, you too will be able to divide them in future years and enjoy such magnificent tapestries of colour.

Nature Imitates Art with Breck's® Renowned Batik Iris Collection

In the ancient art of Batik, a skilled craftsman uses a tiny brass needle to drizzle hot liquid wax onto plain white fabric, painstakingly drawing tiny, delicate lines. When his drawing is complete, the fabric is dyed and the wax dissolves. Then the process is repeated with more deep, rich colours until an intricate and breathtaking design is revealed. Truly a treasure.

Living Art Made Just for Your Pleasure

We are proud to present our Renowned Batik Iris Collection. These amazing hybrids are the result of painstaking research and hard work by growers including noted iris hybridizer, Brad Kasperek. After years of crossbreeding, they were able to arrest the normal production of pigment in certain German iris, thus causing it to turn on and off randomly. The results are simply magnificent. Streaks of white embellish the standards and falls of every bloom. Like their namesake, each individual flower seems to have been hand dyed—unique works of art for your borders or cut-flower arrangements. By ordering our collection, you will be among some of the few home gardeners lucky enough to display these breathtaking, gourmet blooms.

This collection includes 1 each of following varieties:

Ziggy: Soft yellow standards are infused with velvety lavender at the midribs. White-yellow falls are heavily overlaid with bright reddish- purple mottling. Grows 29" tall.
Gnus Flash: Brilliant standards lighten from gold to grey with silver streaks. Violet falls are streaked with silver and feature violet-tipped gold beards. 38" tall.
Zip It Up: Its white plicata blooms are flecked, marked and edged with pure blue, creating a stunning, cool look. A sweet fragrance enhances its dazzling beauty. Grows 33" tall.
Baboon Bottom: Dramatic swirls and streaks in shades of pink and white bedeck the petals. Tangerine beards are tipped with rose. Grows 26" tall.
Cheetah Cheese: An eye-catching beauty with burnt orange-apricot petals. Its flaring falls are overlaid with a deep garnet netting pattern and creamy streaks. Bright tangerine beards lend to an exuberant spirit. Grows 32" tall.

Plus Free Gift:
Batik Iris: Grace your borders with a true masterpiece. This eye-catching beauty features fluted petals of royal blue, wildly streaked and splattered with white. Recipient of the Knowlton Medal, the American Iris Society's highest honour for border bearded irises. Grows 24" tall.
Details
Botanical Name

Collection of various Iris germanica

Form

Rhizome

Hardiness Zone

4-9

Flowering Time

Early, midseason and late flowering. Some will even reblooms late summer/fall. (Mid to late spring, re-blooms late summer to early fall)

Light Requirements

Full Sun, Partial Shade

Flower Color

Collection of Iris with broken colors (zebra pattern)

Flower Form

Flowers are fan-shaped, with three drooping petals called falls and three upright petals called standards.

Foliage Type

Glaucous-green, sword-like fans of stiff upright leaves with some dying back in colder climates in winter.

Growth Rate

Medium
Height/Habit

24 - 38 inches

Spread

24 inches

Planting Instructions

Set rhizome so bottom half is below ground level. Firm well and water thoroughly. Plant where they will get at least 5 hours of sun per day.

Soil Requirements

Well drained preferred. Quite tolerant of a wide range of soils although.

Will Tolerate

Acidic Soil, Clay Soil, Loamy Soil, Sandy Soil

Pruning

Remove spent flower stems after blooming. In late fall, cut back foliage to 6" fans. Clean plant debris before winter to prevent borers overwintering.
Growing Tips for Breck's® Renowned Batik Iris Collection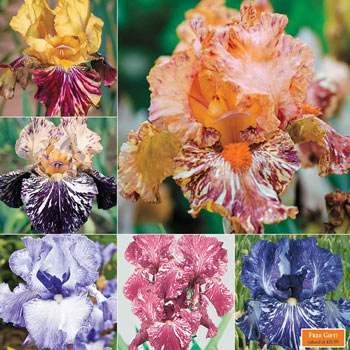 Customer Reviews
Questions & Answers
Shipping
Upon placing your order you will receive an email confirmation with the details of your order and a shipping estimate. You will also receive an email notification when your order actually ships with an updated arrival estimate. If you have ordered multiple items, you may receive them in more than one shipment. We will send you a separate email confirming each shipment.
At any time after you place your order you can check your order status on our website using your email or the account number found in your order confirmation email.
The type of product you order or the weather in our area or your area may affect the anticipated shipping schedule below.
Based on the contents of your order we always strive to ship your order complete, and as early as possible in the planting season to allow for the best root development once planted.
To promote optimum stress protection in transit and your success in the garden, bareroot perennials are kept in the ground in our nurseries until fully dormant. In the Fall these plants tend to arrive at the later end of the shipping window above.
In all cases, we choose the fastest, most efficient way to delivery your orders via the USPS or FedEx based on your hardiness zone.. Large orders may be shipped in more than one package.
Bulb and perennial shipments direct from Holland are harvested in July and August dependent on the season and crop. Once fully inspected and packaged they are shipped direct to you in the most efficient manner to follow the dates above.
Garden hardgoods and Gift Certificates ship with in 4-7 day.
We will pack and ship your order based on the following schedule.
Please note that we cannot ship outside the 48 contiguous states.
FALL Shipping Schedule
Iris

| Zones | Shipping Dates | Last Order Date |
| --- | --- | --- |
| 3AB - 7A | 10/4/21 - 11/12/21 | 11/8/2021 |
| 7B - 10B | 10/4/21 - 11/26/21 | 11/22/2021 |

Bulbs from Holland

Zones
Shipping Dates
3AB - 7AB
8/9/21 - 12/10/21
8AB - 10AB
8/23/21 - 12/10/21
Last Order Date
12/06/2021

Bareroot Perennials

| Zones | Shipping Dates |
| --- | --- |
| 3AB - 10B | 9/13/21 - 11/26/21 |
| Last Order Date | 11/22/2021 |

5" Potted Roses

| Zones | Shipping Dates |
| --- | --- |
| 1AB - 10B | 8/17/21 - 9/18/21 |
| Last Order Date | 9/14/2021 |

Hedges and Shrubs

| Zones | Shipping Dates |
| --- | --- |
| 1A - 4B | 9/9/21 - 10/30/21 |
| 5A | 9/9/21 - 10/30/21 |
| 5B | 9/9/21 - 10/30/21 |
| 6A - 6B | 9/9/21 - 10/30/21 |
| 7A - 7B | 9/9/21 - 10/30/21 |
| 8A - 8B | 9/9/21 - 10/30/21 |
| 9A - 10B | 9/9/21 - 10/30/21 |
| Last Order Date | 10/26/2021 |

House Plants

| Zones | Shipping Dates | Last Order Date |
| --- | --- | --- |
| 3AB - 6AB | 7/6/21 - 11/6/21 | 11/2/2021 |
| 7AB - 10AB | 7/6/21 - 11/16/21 | 11/2/2021 |

Shipping & Handling Charges

| Total Order | Add |
| --- | --- |
| Up to $40.00 order | $9.95 |
| $40.01 to $60.00 | $12.95 |
| $60.01 to $80.00 | $14.95 |
| $80.01 to $100.00 | $16.95 |
| $100.01 to over | $18.95 |
See our shipping information page for approximate ship dates and more detailed information. If you have any questions, please call Customer Service at (513) 354-1512 or contact us at service@brecks.com.
---