Twice as Nice Reblooming Iris Collection
Twice as Nice Reblooming Iris Collection
Light

Full Sun, Partial Shade

Size

Rhizomes

Zone

4-9

Bloom Time

Mid spring, re-blooms late summer to early fall

Height

27 - 38 inches

Soil Requirement

Well drained preferred. Quite tolerant of a wide range of soils although.

Deer Resistant
We'll carefully pack and ship your order at the proper planting time for your hardiness zone.
How many plants do I need?
Shop plants best for your
Hardiness Zone
* Your final payment amount will be calculated at the time of checkout.
Twice as Nice Reblooming Iris Collection Description
Relive the splendour!
These reblooming beauties come back again and again and again!
With most perennials, when the last flowers fade, you have to hang up your gardening gloves and start dreaming of next year. But with Breck's® Twice as Nice Reblooming Iris Collection, you can skip the sad farewell.
These are premium reblooming varieties. Once their late spring/early summer show comes to an end, get ready to enjoy them again... and again...as they bloom intermittently from late summer to early fall. Breck's reblooming irises are winter hardy in zones 4−9 and multiply annually, so your enjoyment will multiply each year, too. Or thin them out and share some with your envious neighbours.
Treat yourself to an exquisite iris collection with some highly appealing traits.
We've already told you that these incredible iris rebloom, but there's a lot more you should know about our
Twice As Nice Collection.
The six varieties that comprise this incredible reblooming iris assortment were selected because they perform exceptionally well in North American gardens and deliver all the characteristics most cherished by iris lovers:
Colour: Uncommon hues and eye-catching combinations that harmonize with each other, as well as with the varieties you already grow.
Form: Famed for stature and elegance, these reblooming bearded iris are the paramount of refinement, grown and prized by generations of nobility—and noble gardeners like you.
Foliage:Distinctive, glossy green "fans" are as ornamental and striking as the blooms themselves.
Performance: Breck's® #1 field-grown rhizomes are individually hand selected by our Dutch bulb experts for size and guaranteed growth. Superior hardiness ensures rapid proliferation for increased beauty year after year, with minimum care.
This collection includes one each of the following varieties:
Wine Festival:
A plicata type, its white base colour has a gorgeous rose violet banding on its falls. Standards are the same rose-violet hue and beards are vivid orange. Very light fragrance. Like a fine wine, this full-bodied flower improves with age, multiplying yearly to create more blooms! Grows 38" tall.
Immortality:
A multiple rebloomer, Immortality is one of the most prolific irises on the planet! Brilliant white standards and falls shimmer with pearlescent radiance in spring, summer and fall. Its complementary hue and medium height allow it to fit in almost anywhere. Grows 29" tall.
My Friend Jonathan:
Vigorous and unusually hued, its large, prominently ruffled blooms display tones of fuchsia and brick red with chocolate veining and bronze beards. You'll notice that its standards and falls are both unusually large compared with other bearded irises. A very reliable rebloomer! Grows 36" tall.
Clarence:
Luminous variety bears pale blue to white standards atop sumptuous blue-violet falls. Flowers are accented by snowy centres near the bushy, creamy white beards. The cool tones of this multiple award winner are made twice as nice due to its reliable reblooming trait. A Wister Medal recipient. Grows 35" tall.
Harvest of Memories:
These radiant yellow flowers will shine wherever you plant them! Arched standards, broad falls and a subtle fragrance make them irresistible to iris collectors who love their clean, uncomplicated beauty. Plants have outstanding vigour and a high bud count. Grows 38" tall.
Concertina:
Multiple award winner's lush, rosepink blooms are highlighted with violet-blue beards. Great in borders, alongside walkways and in containers, or plant in drifts to create a pretty sea of pink twice a year, every year. Carefree and very drought tolerant, once established. Grows 27" tall.
Details
Botanical Name

Collection of various reblooming Iris germanica varieties

Form

Rhizome

Hardiness Zone

4-9

Flowering Time

Mid spring, re-blooms late summer to early fall

Light Requirements

Full Sun, Partial Shade

Flower Color

Collection of various colors

Flower Form

Flowers are fan-shaped, with three drooping petals called falls and three upright petals called standards.

Foliage Type

Glaucous-green, sword-like fans of stiff upright leaves with some dying back in colder climates in winter.

Growth Rate

Medium
Height/Habit

27 - 38 inches

Spread

24 inches

Planting Instructions

Set rhizome so bottom half is below ground level. Firm well and water thoroughly. Plant where they will get at least 5 hours of sun per day.

Soil Requirements

Well drained preferred. Quite tolerant of a wide range of soils although.

Will Tolerate

Acidic Soil, Clay Soil, Loamy Soil, Sandy Soil

Pruning

Remove spent flower stems after blooming. In late fall, cut back foliage to 6" fans. Clean plant debris before winter to prevent borers overwintering.
Growing Tips for Twice as Nice Reblooming Iris Collection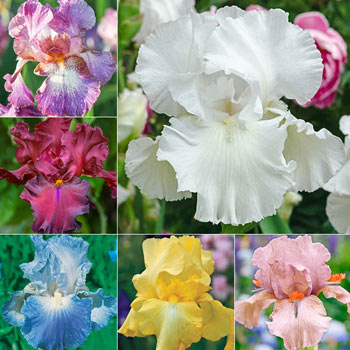 Customer Reviews
Questions & Answers
Shipping
Upon placing your order you will receive an email confirmation with the details of your order and a shipping estimate. You will also receive an email notification when your order actually ships with an updated arrival estimate. If you have ordered multiple items, you may receive them in more than one shipment. We will send you a separate email confirming each shipment.
At any time after you place your order you can check your order status on our website using your email or the account number found in your order confirmation email.
The type of product you order or the weather in our area or your area may affect the anticipated shipping schedule below.
Based on the contents of your order we always strive to ship your order complete, and as early as possible in the planting season to allow for the best root development once planted.
To promote optimum stress protection in transit and your success in the garden, bareroot perennials are kept in the ground in our nurseries until fully dormant. In the Fall these plants tend to arrive at the later end of the shipping window above.
In all cases, we choose the fastest, most efficient way to delivery your orders via the USPS or FedEx based on your hardiness zone.. Large orders may be shipped in more than one package.
Bulb and perennial shipments direct from Holland are harvested in July and August dependent on the season and crop. Once fully inspected and packaged they are shipped direct to you in the most efficient manner to follow the dates above.
Garden hardgoods and Gift Certificates ship with in 4-7 day.
We will pack and ship your order based on the following schedule.
Please note that we cannot ship outside the 48 contiguous states.
FALL Shipping Schedule
Iris

| Zones | Shipping Dates | Last Order Date |
| --- | --- | --- |
| 3AB - 7A | 10/4/21 - 11/12/21 | 11/8/2021 |
| 7B - 10B | 10/4/21 - 11/26/21 | 11/22/2021 |

Bulbs from Holland

Zones
Shipping Dates
3AB - 7AB
8/9/21 - 12/10/21
8AB - 10AB
8/23/21 - 12/10/21
Last Order Date
12/06/2021

Bareroot Perennials

| Zones | Shipping Dates |
| --- | --- |
| 3AB - 10B | 9/13/21 - 11/26/21 |
| Last Order Date | 11/22/2021 |

5" Potted Roses

| Zones | Shipping Dates |
| --- | --- |
| 1AB - 10B | 8/17/21 - 9/18/21 |
| Last Order Date | 9/14/2021 |

Hedges and Shrubs

| Zones | Shipping Dates |
| --- | --- |
| 1A - 4B | 9/9/21 - 10/30/21 |
| 5A | 9/9/21 - 10/30/21 |
| 5B | 9/9/21 - 10/30/21 |
| 6A - 6B | 9/9/21 - 10/30/21 |
| 7A - 7B | 9/9/21 - 10/30/21 |
| 8A - 8B | 9/9/21 - 10/30/21 |
| 9A - 10B | 9/9/21 - 10/30/21 |
| Last Order Date | 10/26/2021 |

House Plants

| Zones | Shipping Dates | Last Order Date |
| --- | --- | --- |
| 3AB - 6AB | 7/6/21 - 11/6/21 | 11/2/2021 |
| 7AB - 10AB | 7/6/21 - 11/16/21 | 11/2/2021 |

Shipping & Handling Charges

| Total Order | Add |
| --- | --- |
| Up to $40.00 order | $9.95 |
| $40.01 to $60.00 | $12.95 |
| $60.01 to $80.00 | $14.95 |
| $80.01 to $100.00 | $16.95 |
| $100.01 to over | $18.95 |
See our shipping information page for approximate ship dates and more detailed information. If you have any questions, please call Customer Service at (513) 354-1512 or contact us at service@brecks.com.
---