Spotlight Lily Tree® Collection
Shop plants best for your
Hardiness Zone
* Your final payment amount will be calculated at the time of checkout.
Spotlight Lily Tree® Collection Description
A Floral Fantasy Come True
In fairy tales and the imaginations of children, flowers can be as tall as trees. We all remember Jack and his magic bean stalk.
Now Breck's brings you a floral fantasy come to life. Our magical Lily Trees are the breathtaking result from years of selective breeding. They offer you all the advantages of the finest hybrid lilies—massive, upward-facing trumpets of vivid colour, delicate fragrance and exceptional reliability. Every plant bears four to five flowers the very first year and 20 to 30 after three years!
All this on incredibly sturdy stems that reach up 3-4' the first year, 5-6' the next year and upwards to 6-8' in three years! This rapid growth comes in part from the Lily Tree's unique ability to offshoot new stems from a single bulb.
Carefree and Easy to Grow
Lily Trees naturalize well and require no special care. The stems are so strong, the plant needs no added support. After the lily is done flowering, it will benefit from a feeding with Breck's
®
Food for Bulbs and Perennials to stimulate growth. But regardless, your Lily Trees will increase and bloom again every year.
Thrilling colour and Perfume
A Reliable Perennial:
Blooms mid to late summer
Hardy in zones 3-10
Thrives in sun to part shade
Perfect for:
Back of borders
In front of walls and fences
Privacy screening
Around the patio or deck
Cutting for fresh flowers and bouquets
Keep Looking Up!
Never before has a lily achieved such heights of beauty. You can just imagine Jack climbing up these thick, sturdy stalks. But at the top, the only giants he would find are the huge, luxuriant lily blooms! The five varieties chosen for each of these collections represent the very best performers we have found. And as landscape ornaments, nothing could be more versatile. Just imagine the delightful scene you will be treated to every summer when you see these big, colourful lilies towering overhead and catch the exquisite perfume on the breeze.
Lily Trees have fast become a favourite with our staff here in Noordwijkerhout, Holland. Once we saw how well these amazing hybrids performed in our test gardens, we couldn't resist planting some around our building. Visitors to our office regularly comment on them, and we are sure your guests will be equally entranced.
A lilly so tall, blooms are at eye level
Lily Trees are ideal for planting at the back of borders or the corner of beds where their massive height can be fully appreciated. They are excellent visual anchors that will help define your landscape. The lush, bright green foliage lasts all season and forms a magnificent backdrop for other lilies as well as other perennials.
This collection includes one each of the following varieties:
Olympic Torch
Pretty Woman
Beverly Dreams
Purple Lady
Rising Moon
Details
Botanical Name

Collection of various Lilium OT hybrid

Form

Perennial

Hardiness Zone

3-10

Flowering Time

Mid to late summer

Light Requirements

Full Sun, Partial Shade

Flower Color

Mixture of various colors

Flower Form

Out facing, pendant flowers with thick waxy petals.

Foliage Type

Linear, green leaves arranged in whorls or spirals up the stems.

Growth Rate

Medium
Height/Habit

36 - 96 inches

Spread

9 - 12 inches

Planting Instructions

6" deep and 9 - 12" apart

Soil Requirements

Prefers well drained soil, but will tolerate heavier soils.

Will Tolerate

Acidic Soil, Clay Soil, Loamy Soil, Sandy Soil

Pruning

Don't remove leaves until they have died down in fall. They help provide nourishment to the bulb for next season's blooms.
Growing Tips for Spotlight Lily Tree® Collection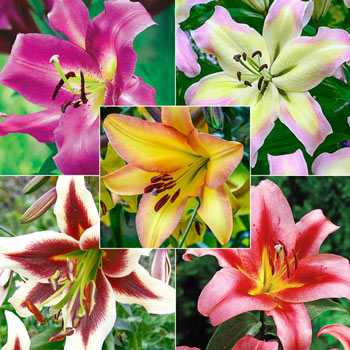 Customer Reviews
Questions & Answers
Shipping
Upon placing your order you will receive an email confirmation with the details of your order and a shipping estimate. You will also receive an email notification when your order actually ships with an updated arrival estimate. If you have ordered multiple items, you may receive them in more than one shipment. We will send you a separate email confirming each shipment.
At any time after you place your order you can check your order status on our website using your email or the account number found in your order confirmation email.
The type of product you order or the weather in our area or your area may affect the anticipated shipping schedule below.
Based on the contents of your order we always strive to ship your order complete, and as early as possible in the planting season to allow for the best root development once planted.
To promote optimum stress protection in transit and your success in the garden, bareroot perennials are kept in the ground in our nurseries until fully dormant. In the Fall these plants tend to arrive at the later end of the shipping window above.
In all cases, we choose the fastest, most efficient way to delivery your orders via the USPS or FedEx based on your hardiness zone.. Large orders may be shipped in more than one package.
Bulb and perennial shipments direct from Holland are harvested in July and August dependent on the season and crop. Once fully inspected and packaged they are shipped direct to you in the most efficient manner to follow the dates above.
Garden hardgoods and Gift Certificates ship with in 4-7 day.
We will pack and ship your order based on the following schedule.
Please note that we cannot ship outside the 48 contiguous states.
FALL Shipping Schedule
Bulbs from Holland

Zones
Shipping Dates
3AB - 7AB
9/19/22 - 11/25/22
8AB - 10AB
9/19/22 - 11/25/22
Last Order Date
11/21/22

Bareroot Perennials

| Zones | Shipping Dates |
| --- | --- |
| 3 - 6 | 9/5/22 - 10/28/22 |
| 7 - 10 | 9/26/22 - 11/11/22 |
| Last Order Date | 11/7/2022 |

5" Potted Roses

| Zones | Shipping Dates |
| --- | --- |
| 1AB - 10B | 8/17/21 - 9/18/21 |
| Last Order Date | 9/14/2021 |

Hedges and Shrubs

| Zones | Shipping Dates | Last Order Date |
| --- | --- | --- |
| 3 - 7 | 10/3/22 - 11/4/22 | 10/31/22 |
| 8 - 10 | 10/3/22 - 11/18/22 | 11/14/22 |

House Plants

| Zones | Shipping Dates | Last Order Date |
| --- | --- | --- |
| 3AB - 6AB | 7/11/22 - 10/21/22 | 10/17/2022 |
| 7AB - 10AB | 7/11/22 - 11/4/22 | 10/31/22 |

Shipping & Handling Charges

| Total Order | Add |
| --- | --- |
| Up to $40.00 order | $9.95 |
| $40.01 to $60.00 | $12.95 |
| $60.01 to $80.00 | $14.95 |
| $80.01 to $100.00 | $16.95 |
| $100.01 to over | $18.95 |
See our shipping information page for approximate ship dates and more detailed information. If you have any questions, please call Customer Service at (513) 354-1512 or contact us at service@brecks.com.
---