What to do When Bulbs Arrive
WHEN YOUR ORDER ARRIVES
Each Breck's® bulb and perennial is packaged with care for easy planting and healthy growing. Be sure to open and inspect your items immediately upon arrival. Don't worry if your bareroot items appear to be dry or dead when they arrive. They are simply dormant, and will spring to life after you plant them. This is the safest and most cost-effective way to ship perennials.
It's best to plant right away, but if that's not possible, you can store your perennials or bulbs safely for a few days in their original shipping bag. Choose a cool (but not freezing) location, like the vegetable drawer of your refrigerator.
PLANTING BAREROOT PERENNIALS
Remove the perennial from its packing material and trim off any damaged or extra-long roots. It is not uncommon for plants to sprout during shipment. If this has occurred, trim any new growth back to 1-2". While you prepare the planting area, soak the perennial in water for approximately 30 minutes.
Most perennials prefer well-drained soil. For new beds, till the area to a depth of about 10 inches, add a few inches of compost, and till again. If you're planting in an established bed, work compost into the top 6-8" of soil. Now you're ready to dig.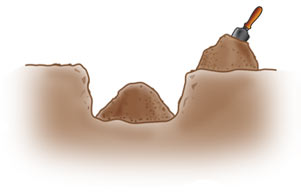 1.
Don't plant your new perennials too deep. As a general rule, the top of the perennial (the eye) should be just below the soil surface. After digging, build a cone of soil in the bottom of the planting hole.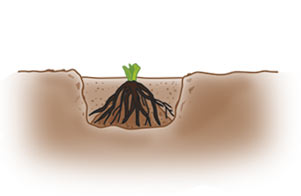 2.
Place the roots in the hole, spreading them around the surface of the cone. Gently refill the hole, firming the soil with your hands. Water the area well.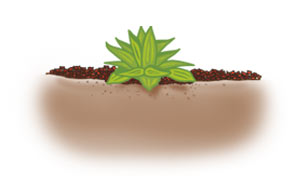 3.
It could take up to eight weeks for your dormant roots to produce new growth. Once the plant is established, add a 2-3" thick layer of mulch, leaving a few inches bare around the base of the plant.
PLANTING SUMMER BULBS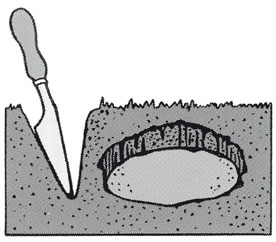 1.
Dig a hole or bed to proper depth for the type of bulb being planted and loosen the soil at the bottom of the hole or bed.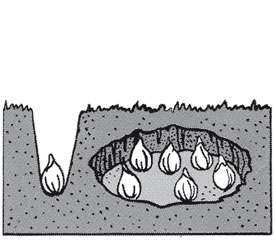 2.
Place plant roots or bulbs (generally pointed tips up) at the bottom of hole. Be sure there are no pockets to hold water.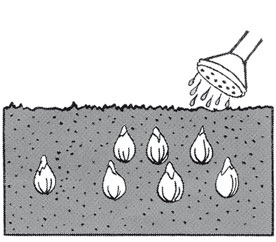 3.
Cover with loose soil and pack well. Then give a good initial watering. That's all. Now Mother Nature takes over.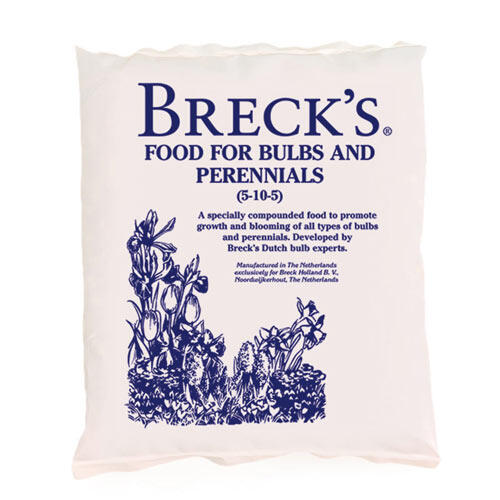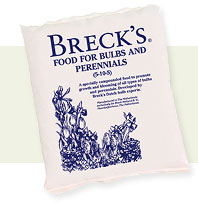 While each plant or bulb is a complete "plant factory" with built-in nourishment, it's a good idea to mix Breck's Food for Bulbs and Perennials with the loose soil at the bottom of your planting hole.