For a carefree, colourful display year after year, let your bulbs go wild! Flowering bulbs will keep your garden ablaze with colour when other plants are just emerging or have faded. Naturalizing is the process of imitating nature with bulb plantings. In nature, bulbs do not grow in rows. The flowers appear in irregular clumps scattered over the landscape. There are several early Spring Bulbs that naturalize easily in grassy areas. Some of these include:
snowdrops
,
winter aconites
,
Crocus
and
Daffodils
.

Getting Started
Before deciding where to plant bulbs that naturalize, consider where your landscape needs more colour at various times in spring and early summer. By planting a combination of different species and cultivars, you'll enjoy a succession of bloom that lasts several months or more. Also consider the garden setting and the effect you'd like to achieve.
In a woodland garden, incorporate bold, sweeping drifts of early spring colour. The moist soils and shaded conditions are ideal for naturalizing Snowdrops, Crocus, early Daffodils,
Grecian Windflowers
,
Early Snow Glories
and Winter Aconite.These plants colonize vigorously and thrive under deciduous trees.
In lawns and the front of mixed borders, plant
Grape Hyacinths
, and
low-growing Allium
. You also can tuck these bulbs into ground cover beds, such as ivy and pachysandra, for colour and contrast.
Daffodils are a good naturalizer. However, since the foliage does not mature until the end of June, many gardeners have a tendency to mow off the foliage before its time. Therefore, it is wise to naturalize daffodils in an out of the way location where lack of mowing can be tolerated.
For rock gardens, entryway locations and other areas where close-up detail is desired, choose small Crocuses, Snow Glories, Winter Aconite, Groundcover Tulips, and other bulbs with diminutive blooms. Plant them in small clusters at the corners of beds, in crevices between rocks, or between later blooming garden plants.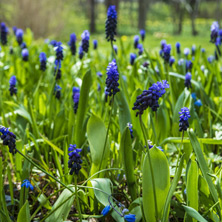 Caring for Naturalized Bulbs
Naturalized bulbs require very little care. Simply let the foliage die back naturally to ensure that the plants have had ample time to recharge their bulbs so they can produce flowers for the following year. The foliage can either be removed by hand or left alone to fade on its own. If you've naturalized bulbs in your lawn, keep in mind that the foliage cannot be mowed off until it dies down naturally or the bulbs will eventually die out. An exception to this is the foliage of Crocus and Snowdrops which can be mowed in midspring.
In early spring, top-dress any bulb area with a balanced fertilizer, such as
Breck's Food for Bulbs and Perennials
, to ensure vigorous flowering.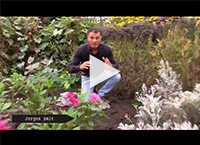 How do I plant flower bulbs in the garden