Pretty Woman Lily Tree®
Spotlight plantings demand huge blooms at extraordinary heights!
Flowers start out pale yellow with a soft pink rim and then gradually become pure white. Strong stalks reach up to 8' tall and produce a profusion of stunning lilies for all to admire. Bring a few indoors to create a gorgeous arrangement in your kitchen or dining room.
The strong stalks of Pretty Woman Orienpet Lily Tree (Lilium) can reach up to 8 feet tall and produce a profusion of stunning lilies to admire. Spectacular, pure white blooms of impressive size grace this amazingly tall Lily Tree and make a lovely addition to any landscape. Easy to grow and wonderful to admire.
What Is a Pretty Woman Lily Tree?
Pretty Woman Lily Tree is an incredibly large and beautiful lily tree. An Orienpet Lily, this is a true stunner, with a statement-making size that sets it apart from standard Oriental or trumpet
lily flowers
. Pretty Woman Lily blooms during early and late summer, with gorgeous white lilies. Each tree lily bulb can have an average of 20-30 blooms by the third year. Its amazing size of up to 8 feet makes this a notable, knock-out lily.
Easy to grow and perfect for both beginners and experienced gardeners, this lily is perfect for naturalizing. It can also be used as a border plant, or even as the accent on the edge of your bed or border. Add colorful white blooms to your garden with these unique flowers! Pretty Woman pairs beautifully with
other lilies
. Try pairing it with shorter lilies, adding it to a mixture of Oriental lilies, or coupling with another tall lily tree.
What are Orienpet Lilies?
Orienpet lilies are a mixture of trumpet lilies and Oriental lilies, combining the best of both worlds. Trumpet lilies are known for their elegant shape and tall size, while Oriental varieties are beloved for large blooms, bursting in bright colors or pure whites, and admirable in lovely forms. Orienpet is the classification of many lily trees, and it's easy to see what makes them such a hit. Orienpet lilies allow large, beautifully-colored lilies to open wide like Oriental lilies, while towering like trumpet varieties.
When Should You Buy Pretty Woman Tree Lily Bulbs?
Since this species of tree lily blooms in spring and summer, the best time to plant Pretty Woman Lilies is during the fall season or early spring. Breck's will make sure that your shipment arrives to you during the best planting time according to your hardiness zone. Getting your rhizomes in the ground before blooming season allows them to develop roots before sending energy to the beautiful flowers produced by Pretty Woman Tree Lily!
Details
Growing Tips for Pretty Woman Lily Tree®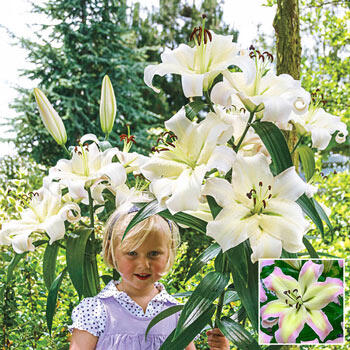 Shipping
Upon placing your order you will receive an email confirmation with the details of your order and a shipping estimate. You will also receive an email notification when your order actually ships with an updated arrival estimate. If you have ordered multiple items, you may receive them in more than one shipment. We will send you a separate email confirming each shipment.
At any time after you place your order you can check your order status on our website using your email or the account number found in your order confirmation email.
The type of product you order or the weather in our area or your area may affect the anticipated shipping schedule below.
Based on the contents of your order we always strive to ship your order complete, and as early as possible in the planting season to allow for the best root development once planted.
To promote optimum stress protection in transit and your success in the garden, bareroot perennials are kept in the ground in our nurseries until fully dormant. In the Fall these plants tend to arrive at the later end of the shipping window above.
In all cases, we choose the fastest, most efficient way to delivery your orders via the USPS or FedEx based on your hardiness zone.. Large orders may be shipped in more than one package.
Bulb and perennial shipments direct from Holland are harvested in July and August dependent on the season and crop. Once fully inspected and packaged they are shipped direct to you in the most efficient manner to follow the dates above.
Garden hardgoods and Gift Certificates ship with in 4-7 day.
We will pack and ship your order based on the following schedule.
Please note that we cannot ship outside the 48 contiguous states.
---