New E-certificates
Give a gift any gardener will love!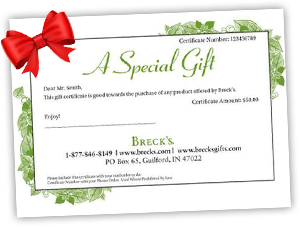 Catalogue Request
Breck's catalogues contain pictures and product information for the flowers and bulbs that we sell. We send out holiday flower catalogues and seasonal catalogues so that you can stay updated and inspired year-round. Breck's customers love receiving a hard-copy of the catalogue in the mail so that they can highlight which products they are interested in and even take the catalogue outside to visualize how the flowers will look in their garden. Join our mailing list today and you'll receive the next catalogue that we publish.
To receive FREE Breck's Catalogues, fill out the information below then click on the "Request Catalogue" button.
Want to order before you get your next catalogue? Find the products you need using the Search option above or browse our web store.