New E-certificates
Give a gift any gardener will love!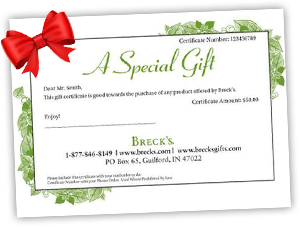 Breck's® Lifetime Guarantee
Over 200 years of Customer Satisfaction

If, for any reason, you're not completely satisfied with any merchandise, hardgood or plant upon receipt, after planting or once it grows and blooms, just contact Breck's® anytime—no time limit—for as long as you garden. No need to return any plant. We'll happily replace it or send you a merchandise credit.
CUSTOMER SERVICE

If you have any questions or concerns about your order, simply call our Customer Service staff at 513.354.1512 or email us at service@brecks.com. We'll be happy to help.

---
Have another question? Call Customer Service at 513-354-1512. Return to the Customer Service Help page or send an email directly to Customer Service .