Butterfly Daffodil Collection
Butterfly Daffodil Collection
Light

Full Sun, Partial Shade

Size

12-14 cm Bulbs

Zone

3-8

Bloom Time

Early to late spring

Height

16 - 20 inches

Soil Requirement

Well drained

Deer Resistant
We'll carefully pack and ship your order at the proper planting time for your hardiness zone.
Item 84638 cannot ship to: AE AK GU HI PR
Butterfly Daffodil Collection Description
Set for Success Our experts selected each variety in this collection from the newer second generation of Butterfly Daffodils. They all have stronger stems and bigger blooms that properly display the unique split corona. This way, when spring rolls around, you can expect these dazzling beauties to put on a strong performance in your garden.
New Surprises Every Spring
The whole process is an exciting one. You plant them in fall, and even through the gloomiest winter days, you have the promise of bulbs just waiting to fill your garden with magnificent blooms. It's a joyful moment when you first spot your daffodils—maybe that's why in Wales they say the first to spot one will enjoy a year of excellent wealth. However, planting and growing this daffodil collection is really just the beginning. The flowers may look delicate, but daffodil bulbs are hardy and prolific. You'll get to watch them grow and naturalize year after year—multiplying over time to surprise you with a spring display that just keeps getting better.
Sharing is Caring
One way to enjoy your Butterfly Daffodils is by sharing some of that wealth. The daffodil has become a symbol of friendship, often given in spring to celebrate new life. As a brightly coloured beauty and a well-known harbinger of spring, it's easy to see this little bloom's merit as a friendly gesture. Breck's Butterfly Daffodil Collection is especially moving in a fresh-cut, homegrown bouquet—the wide-open blooms with decadent split and ruffled coronas carry enough ceremony to create a lasting impression. For all the new excitement each new spring brings, you'll have an outstanding bouquet ready to celebrate it.
Breck's Butterfly Daffodils
You can call them Butterfly, Orchid or Hibiscus Daffodils, or use the official classification—Split Corona Daffodils. Their indescribable beauty is clear in just how many different names people have come up with for these unique blooms. Render your friends and neighbours speechless this spring with your own collection of Breck's
®
Butterfly Daffodils.
You've Got Options
There are plenty of ways to use butterfly daffodils. They grow sweetly in little pots you can keep on your patio. You can add eye-catching colour and elegance to your mixed borders. They are a cinch to naturalize and will greet you every spring with a heart-melting scene when you plant them in drifts along a hillside. Wherever you choose, these beauties are very easy to grow. Although they thrive best in well-drained soil, they don't mind clay, loamy or sandy soil. Also, as with all daffodils, deer won't eat these varieties.
A Spring Display to Make your Heart Flutter!
It's everything you love about easy-growing traditional daffodils, with the addition of an intricate and elegant form you'd think was designed by an artist instead of discovered by a hybridizer. The split cups, delicately curling between layers of petals, are clearly beautiful in pictures. However, nothing compares to watching them ruffle in a breeze, they look like a visiting butterfly's rustling wings.
This collection includes 5 each of the following varieties:
Blazing Star Daffodil: When choosing daffodils for your garden, consider the unique pop of colour and touch of style this exciting variety delivers. Sunny yellow, 3½" blooms boast striking ruffled cups trimmed in a fine, rich orange edge. Great in seasonal borders, mixed beds or cutting gardens. Bloom Time: Mid Spring


Delta Daffodil: This one is an absolute must-have for butterfly daffodil fans! Its colourful, stately blooms open in mid spring on 20" stems. The flamboyant, 4¼" flowers feature frilly, split coronas and startling hues of white, orange-yellow and yellow. Gorgeous in a border, foundation planting or cut-flower arrangement. Deer resistant and an excellent naturalizer.


Pink Wonder Daffodil: Pink Wonder stands out among the recently introduced pink daffodils with its extremely full, ruffled cup, offset by white petals and a small, yellow centre. The buds for this variety open in a more peachy shade and soften to warm pink as they mature. Several of the split-corona petals are nestled between two layers of white flower petals, giving the blooms a fantastic, multitiered look. Bloom Time: Mid Spring You get 5 bulbs.


Moonlight Serenade Daffodil: Luminous blooms draw immediate attention with their mysterious beauty. A ruffled, lemon-yellow split corona has contrasting white petals that transform into a delicious, buttery yellow at maturity. Split-crown ruffles remain lemon coloured throughout the life of the flower. Bloom Time: Early to Mid Spring


Sunny Girl Daffodil :Breck's 2006 Daffodil of the Year. Exotic colour combination! A ruffled, pinkorange to nearly red, split corona surrounds a pink-white centre. The widespreading split cup nearly envelops the full, white petals. Breathtaking in beds and borders. Enjoy them in a cutting garden for exquisite bouquets. Bloom Time: Mid Spring
Details
Botanical Name

Narcissus

Form

Bulb

Hardiness Zone

3-8

Flowering Time

Early to late spring

Light Requirements

Full Sun, Partial Shade

Flower Color

Various colors (collection)

Flower Form

3 to 4" wide split corona (butterfly) flowers

Foliage Type

Rich, long green, strap like leaves.

Growth Rate

Medium
Height/Habit

16 - 20 inches

Spread

4 - 6 inches

Planting Instructions

6" deep and 4-6" apart

Soil Requirements

Well drained

Will Tolerate

Acidic Soil, Clay Soil, Loamy Soil, Sandy Soil

Pruning

Let foliage mature and die down naturally
Growing Tips for Butterfly Daffodil Collection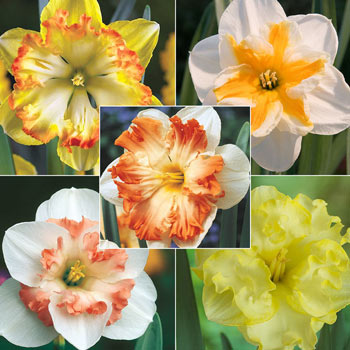 Shipping
Upon placing your order you will receive an email confirmation with the details of your order and a shipping estimate. You will also receive an email notification when your order actually ships with an updated arrival estimate. If you have ordered multiple items, you may receive them in more than one shipment. We will send you a separate email confirming each shipment.
At any time after you place your order you can check your order status on our website using your email or the account number found in your order confirmation email.
The type of product you order or the weather in our area or your area may affect the anticipated shipping schedule below.
Based on the contents of your order we always strive to ship your order complete, and as early as possible in the planting season to allow for the best root development once planted.
To promote optimum stress protection in transit and your success in the garden, bareroot perennials are kept in the ground in our nurseries until fully dormant. In the Fall these plants tend to arrive at the later end of the shipping window above.
In all cases, we choose the fastest, most efficient way to delivery your orders via the USPS or FedEx based on your hardiness zone.. Large orders may be shipped in more than one package.
Bulb and perennial shipments direct from Holland are harvested in July and August dependent on the season and crop. Once fully inspected and packaged they are shipped direct to you in the most efficient manner to follow the dates above.
Garden hardgoods and Gift Certificates ship with in 4-7 day.
We will pack and ship your order based on the following schedule.
Please note that we cannot ship outside the 48 contiguous states.
FALL Shipping Schedule
Bulbs from Holland

| Zones | Shipping Dates | Last Order Date |
| --- | --- | --- |
| 3A - 5B | 8/7/23 - 12/8/23 | 12/4/23 |
| 6A - 7B | 8/14/23 - 12/8/23 | 12/4/23 |
| 8A - 10B | 8/21/23 - 12/8/23 | 12/4/23 |

Shipping & Handling Charges

| Total Order | Add |
| --- | --- |
| Up to $40.00 order | $10.95 |
| $40.01 to $60.00 | $14.95 |
| $60.01 to $80.00 | $16.95 |
| $80.01 to $100.00 | $18.95 |
| $100.01 to over | $20.95 |
See our shipping information page for approximate ship dates and more detailed information. If you have any questions, please call Customer Service at (513) 354-1512 or contact us at service@brecks.com.
Planting Video: Step by Step
---