New E-certificates
Give a gift any gardener will love!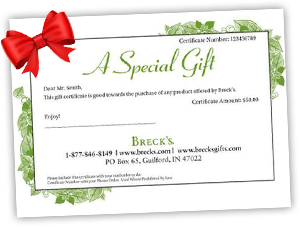 Begonia Bulbs
Begonia flowers are a favorite of many gardeners, with their cheerful blooms signaling summer and warmer weather. Add high-quality begonia bulbs from Breck's to your garden for flashy red, yellow, pink, or orange flowers. Or, plant our tuberous begonias bulbs in containers for a colorful container garden on your deck or patio.
Begonias For Sale From Breck's
Breck's selection of begonia flowers and bulbs are perfect for any garden, in ground or in pot. Visit our
begonia planting guide
for a full breakdown on begonia flower care and our
garden supplies
for any essential gardening tools.
Which Begonia Varieties Should I Buy?
Begonias are available in a variety of styles, colors, and shapes—you'll enjoy our picotee and double blooming varieties, as well as our cascading begonias for hanging baskets! You may plant begonias in containers or in beds of their own—many gardeners prefer to separate them into unique bundles of a single varietal. Begonia flowers often stand between six and 12 inches tall but some varieties reach close to two feet, and they provide a base layer of foliage when planted in groups.
Where to Plant Begonias
We adore begonia bulbs for
summer gardens
.The leaf and flower in a range of colors, and their tolerance for shade makes them an excellent choice for a variety of placements. Begonia flowers bloom into whites and warm colors, adding a sense of tropical beauty to a range of growth zones. Add begonia bulbs to the garden for beds of color amid rich green leaves. Begonia bulbs thrive in shaded areas, and their rich colors make them an excellent choice for those dark pockets of the yard that get half sunlight during the day. Whether you place them in baskets or arrange them in beds, begonia bulbs emerge with fresh colors during the warmest months of the year.
How to Plant Begonias and Begonia Bulbs
You can plant begonia bulbs in any well-drained soil; just allow about a foot between each plant and plant them about 4 inches deep. Plant a begonia tuber in potting soil, round side down, about 1" below the surface. Water well and then keep the soil moist but not soggy. Keep in a warm, semi-shady area. When all danger of frost has passed, transplant outdoors being careful not to disturb the roots. Keep in a warm, semi-shady area. When all danger of frost has passed, transplant outdoors being careful not to disturb the roots.
When to Plant Begonia Bulbs
In cold areas, start begonia tubers indoors about 6 weeks before you anticipate the last frost. Hardy begonias grow well in zones 3 to 10. If you live in zones 3 to 7, be sure to lift them in the autumn seasons to keep them flowering year after year. If you are unsure what zone you are in, check with Breck's
zone finder
. Begonia bulbs come into bloom during the summer months and offer a variety of options for the garden.
How to Care for Begonia Bulbs
In the garden, begonias need rich, porous, well-drained soil and shelter from the wind. Space 12" apart in shade or partial shade. Keep the soil evenly moist and fertilize at least once a month. Tuberous begonias should be dug and immediately given a bath after they are lifted. Begonia bulbs should be stored over the winter in shallow, open trays; if there may be mice or other rodents, place a wire covering over the open trays. Read our guide on
how to care for begonias
for more information and tips.
Do Begonias Come Back Every Year?
There are two kinds of begonias you can buy: annual begonias, and hardy perennial begonias. The kind that grow from tubers—the begonias you can buy from Breck's—are perennials that come back year after year.
Wax begonias or bedding begonias are annuals. While they have a different appearance, they are related to perennial begonias. Wax begonias have waxy leaves and petals, with small flowers surrounding a bright, ball-shaped center. Wax begonias are great shade plants, but they don't come back every year. They're also not excellent shippers. Pick up these pot-filling annuals at your local garden center to fill in planters and bare patches for a single season.
For longer-lasting blooms, choose our begonias for sale! If you select a begonia plant that's hardy in your region, it'll return year after year. Hardy begonias also tend to have bigger blooms and bolder forms than wax begonias. These blooms can really bring your begonias to the next level.
What are hardy begonias?
Now, onto what we think of as begonias:
hardy begonias
! Perennial begonias are larger, longer-lasting plants, featuring bright, frilly, and impactful flowers. Much like their annual counterparts, perennial begonias are beloved for their adaptability to shade and to containers. Perennial begonias tend to have large flowers that ascend from a lush plant, making them absolute stars in the world of hanging baskets or raised planters. You can buy begonias in a variety of shades and patterns, including exciting picotee begonias and marginata begonias with
beautiful edges
. Choosing perennial begonias is an investment in your garden. If you select begonias that are hardy in your area, you'll be rewarded with years of attractive blooms.
When to Buy Tuberous Begonias ?
Perennial begonias are easy to buy online, and begonias for sale online are typically shipped as tubers. You'll place these tubers in the ground after the last frost date, or you can start them indoors about six weeks before that final frost. So, the best time to buy begonia bulbs is in the spring. Like to do a little pre-planning? No problem! Breck's will ship your bulbs to you at just the right time to plant.