New E-certificates
Give a gift any gardener will love!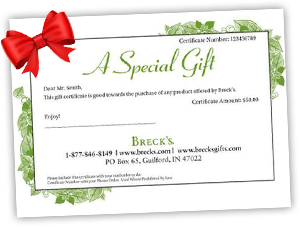 Oriental Lilies
You'll love the sweet, heady scent of Oriental lilies as it drifts your way on the soft summer breeze. Renowned for their striking beauty and delicious scents, Oriental lilies add a touch of paradise to urban gardens. With colours ranging from crisp, snowy white to deep magenta, these flowers come in a wide variety of pink, yellow, orange, purple and red hues. Depending on the variety, the showy blooms have unique features such as crisp edging, multi-coloured petals, mottled speckling, starburst eyes, double blossoms and brightly coloured stamens. Each cultivar has its own vivacious personality and distinct fragrance that will add an exotic beauty to your landscape.

Tolerant and easy to care for, Oriental lily bulbs do well in a variety of locations. They prefer to be planted in lightly enriched clay, loamy and sandy soils with excellent drainage. Hardy in zones 3--8, they flourish in full to partial sun. Plant your Oriental lily bulbs in the fall, about 6 inches deep and 9 to 12 inches apart for showy mid to late summer blooms. When the season is over, be sure to leave some stem and leaves on the plant until late fall to allow it to store nutrition for next year's blossoms. These perennials will propogate, and should be divided and replanted after the bloom has finished.

Oriental lilies love low growing companion plants, and look stunning when paired with summer phlox, cleomes and salvias. If you can't get enough of lilies, stagger the bloom by planting early summer Asiatic lilies with your late summer Orientals. For a bed filled with amazing colours and fragrances, try surrounding tall lily varieties with lower-growing 18-inch Oriental carpet lilies. These shorter flowers also make beautiful borders on their own. Standard Orientals grow to about 3 feet tall, while giant varieties can reach 5 feet in height. Create a sweetly scented paradise in your yard with a variety of Oriental lilies.