New E-certificates
Give a gift any gardener will love!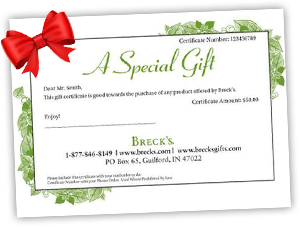 Snowdrops
Planting Snowdrop Bulbs
Avid gardeners look forward to signs that the doldrums of winter are passing and anticipate the sights of spring. What better way to predict Mother Nature's intentions then to plant an early-blooming bulb? Galanthus, or snowdrops, produce a delicate white bell-shaped blossom atop a sturdy rich green stem. The white blooms of the galanthus woronowii are a charming addition to your landscape or rock gardens.
Snowdrop Flowers
Snowdrop flowers are a hardy perennial and well-maintained plants multiply rapidly, making snowdrops an excellent addition to your garden--they return to brighten up your yard, year after year. Plant them after the last frost and you will begin to enjoy the delicate, white blossoms in early spring. Flowering will extend through mid-spring. Snowdrop bulbs need well-drained clay, loamy or sandy soil to thrive, and require full sun to partial shade to maximize blooming. Snowdrops will reach 4 to 6 inches in height and should be planted 2 to 3 inches apart. When purchasing our Dutch-propagated snowdrop bulbs for sale, keep in mind that you might have your choice of blooms, such as double snowdrop bulbs. These decadent double blooms are very much like the single, but with a larger, intricately layered blossom. In addition, the double snowdrop flower often blooms before all the winter snow melts away, hence its name.
Where To Plant Snowdrop Bulbs
Snowdrop flowers will give life to any area. They are great for lawn planting in cooler climates where the grass stays dormant into mid-spring. What better way to line a pathway or add a splash of brightness to a rock garden than rich, white blooms? Plan ahead and plant your snowdrop bulbs near other colorful spring flowers, or where mid-spring and summer flowers will reside after this charmer comes and goes. Having a yard bursting with
early spring flowers
in full bloom is a fabulous way to shake off those winter blues.