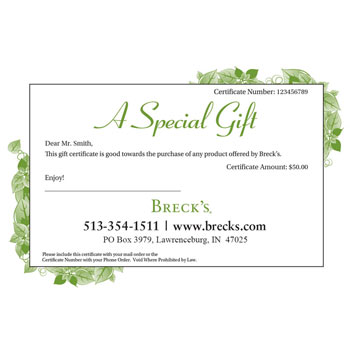 Gift Certificates Help
Gift certificates are mailed to the recipient and will be received with into 5-7 business days. E-certificates are sent out via emailed to a recipient and will be received shortly after placing the order.
Please Note: You will receive Order Confirmation and Shipping Confirmation emails when your E-Gift Certificate order is received. However, the confirmation messages may suggest that your gift will be shipped to your billing address. Not to worry--we will only send your E-Gift Certificate to the email address provided.
Gift Certificates and E-Certificates can be applied to Breck's website by phone or mail.