New E-certificates
Give a gift any gardener will love!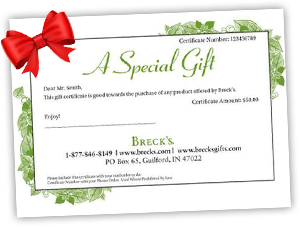 Columbine Plants - Aquilegia
Columbine flowers shoot upward from their nests of rich green foliage like colorful birds taking flight. Their colours burst at the apex of the the stem, usually late into the springtime. Columbine plants offer robust leafy growth and their unique multi-coloured star shaped double rows of petals make them easily recognizable. Enjoy the complex beauty of these plants from the moment you step into the garden.

Columbines grow in well drained soil. Place them in baskets for accents, or use them as attractive borders throughout the garden. They grow to heights of 18 to 36 inches, depending on the variety, and often boast a spread of about 12 inches. Regardless of whether the soil is more sandy or loamy, columbine plants usually grow best when planted about six inches deep. Many gardeners prefer to plant them in bundles. This draws the eye to the collection of columbine flowers without distracting from other focal points in the collection.

These plants grow easily in zones 2 to 9. Just place them in partial to full sunlight for larger blooms and healthier growth. Columbines require only the most basic of pruning. Simply cut away any unhealthy leaves and new foliage will grow to replace them. While their blooms appear in the late spring and early summer, their foliage continues to offer colour to the garden even after the prime season.

When they appear, columbine flowers often attract butterflies and hummingbirds. Enjoy all the benefits of a lively garden by planting them in containers, as borders or in fields. Their versatile growth styles allow for easy inclusion into most gardens, and their complex flowers offer unique personalities to a range of spaces. Invite hummingbirds and other winged friends into your garden with these beautiful perennial blooms every year. Welcome everyone who comes to visit with early summer columbines.