New E-certificates
Give a gift any gardener will love!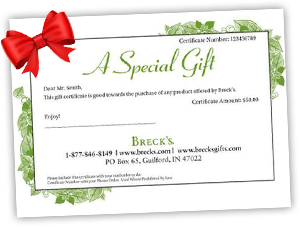 Spring Bulbs
Breck's has the best Spring bulbs for sale! Browse our selection of fall-planting bulbs that will have your spring garden filled with color and allure! You can trust Breck's to provide you with top-quality spring flowering bulbs and great prices.
Spring-Flowering, Fall-Planted Bulbs
To fill your garden with many of your favorite spring-blooming flowers, you've got to have
bulbs to plant in fall
. Quite simply, spring flower bulbs are planted in the fall, grow roots into winter, then sprout and bloom in the spring. These include favorites such as tulips, daffodils, hyacinth and others.
When you order our spring blooming bulbs, not only will you get the finest-quality products from Holland at a great price, you'll receive them at the perfect planting time for your area. Check out our "
Landscaping With Bulbs: Bloom Time
" guide to get an idea of when in Spring different bulbs typically bloom.