Most Popular Reblooming Daylily Collection
Most Popular Reblooming Daylily Collection
Light

Full Sun, Partial Shade

Size

#1 plant

Zone

3-9

Bloom Time

Early, mid and late season, reblooming. (Summer with reblooming in late summer to fall).

Height

16 - 32 inches

Soil Requirement

Well drained

Attract Bees
We'll carefully pack and ship your order at the proper planting time for your hardiness zone.
How many plants do I need?
Buy 6 Bulbs, Get 6 Bulbs FREE!
You will receive 6 FREE Bulbs when your order arrives. Please note, the additional 6 Bulbs will not show on your web order and will be processed when your order ships.
Shop plants best for your
Hardiness Zone
* Your final payment amount will be calculated at the time of checkout.
Most Popular Reblooming Daylily Collection Description
Daylilies Are a Gardener's Dream
Disease resistant, drought tolerant and winter hardy in zones 3-9, daylilies are among the easiest perennials you can grow! They can even thrive in poor soil and polluted environments. Butterflies and hummingbirds love these colourful, open-faced flowers, but rabbits will avoid them. Their bounty of trumpet-shaped blooms open in succession--each one like a stunning work of art that lasts a single day. Plant daylilies in full sun to part shade and Mother Nature will do the rest.

Passion for Red
With massive, candy-apple red blooms reaching up to 7" across, this is one of the biggest and brightest red daylilies there is! Well-branched scapes yield a heavy bud set that produces blooms in midsummer, and then again in late summer to early fall. This prize winner's flowers won't fade in the hot summer sun. Grows 27" tall

Apricot Sparkles
This cheerful award winner arrives extra early and eager to set your landscape alight with diamond-dusted colour! Apricot Sparkles makes a splash in front borders. In butterfly gardens, it provides nourishment for early pollinators. One of the most productive daylilies around, it bears loads of petite 4" flowers of lush apricot in late spring and then reblooms in late summer to early fall. Grows 18" tall.

Daring Deception
Daring Deception is so incredibly prolific that, by its third year, it produces up to 500 stellar blooms per plant! The ruffled, 5½" flowers have striking, dark purple eye zones on pale lavender-pink petals that are rimmed in plum. The plant's trumpet-shaped blooms return in late summer to early fall, following the primary flowering period in midsummer. Grows 24" tall.

Raspberry Eclipse
A showy, altogether remarkable daylily! Raspberry Eclipse offers frilled, 5" blooms of rich reddish purple with pronounced golden, boldly ruffled edges These eye catching flowers arrive in midsummer and then come back in late summer to early fall. Butterflies love this rebloomer, so add several to your garden or border to draw them to your landscape. Grows 22-26"

Buttered Popcorn
One of the finest reblooming daylilies, this well-branched award winner displays a plethora of fragrant, 6" flowers in midsummer, then puts on another colour show from late summer to early fall. The trumpet-shaped, ruffle-edged blooms have a hint of chartreuse in their throats but are otherwise a bold butter-yellow hue. Grows 32" tall

Rosy Returns
Here's a groundbreaking hybrid that's the first hardy, continuously blooming, rose-pink daylily! Each of its many stems bear an average of 12 buds that unfurl trumpet shaped, 3¾" flowers. This award-winning variety blooms in early summer and keeps on flowering until fall's first frost. Striking blooms feature a rose-purple eye zone. Grows 16" tall. PP9779
Details
Botanical Name

Hemerocallis

Form

Perennial

Hardiness Zone

3-9

Flowering Time

Early, mid and late season, reblooming. (Summer with reblooming in late summer to fall).

Light Requirements

Full Sun, Partial Shade

Flower Color

Collection of various colors; see individual varieties

Flower Form

Trumpet shaped flower

Foliage Type

Dormant, (semi)-evergreen, grass-like, long, linear foliage

Growth Rate

Medium
Height/Habit

16 - 32 inches

Spread

18 - 24 inches

Planting Instructions

Top of plant should be just below the soil and 18-24" apart

Soil Requirements

Well drained

Will Tolerate

Acidic Soil, Clay Soil, Dry Soil, Loamy Soil, Sandy Soil

Pruning

Cut back spent flower stems after flowering.
Growing Tips for Most Popular Reblooming Daylily Collection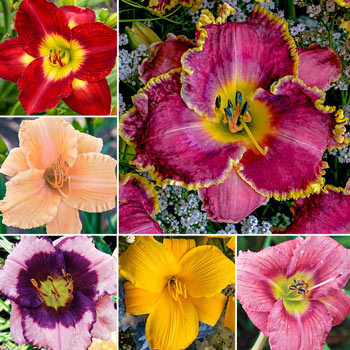 Customer Reviews
Questions & Answers
Shipping
Upon placing your order you will receive an email confirmation with the details of your order and a shipping estimate. You will also receive an email notification when your order actually ships with an updated arrival estimate. If you have ordered multiple items, you may receive them in more than one shipment. We will send you a separate email confirming each shipment.
At any time after you place your order you can check your order status on our website using your email or the account number found in your order confirmation email.
The type of product you order or the weather in our area or your area may affect the anticipated shipping schedule below.
Based on the contents of your order we always strive to ship your order complete, and as early as possible in the planting season to allow for the best root development once planted.
To promote optimum stress protection in transit and your success in the garden, bareroot perennials are kept in the ground in our nurseries until fully dormant. In the Fall these plants tend to arrive at the later end of the shipping window above.
In all cases, we choose the fastest, most efficient way to delivery your orders via the USPS or FedEx based on your hardiness zone.. Large orders may be shipped in more than one package.
Bulb and perennial shipments direct from Holland are harvested in July and August dependent on the season and crop. Once fully inspected and packaged they are shipped direct to you in the most efficient manner to follow the dates above.
Garden hardgoods and Gift Certificates ship with in 4-7 day.
We will pack and ship your order based on the following schedule.
Please note that we cannot ship outside the 48 contiguous states.
SPRING Shipping Schedule
Bareroot Perennials & Bulbs

| Zones | Shipping Dates |
| --- | --- |
| 3-4 | 3/22/22 - 6/24/22 |
| 5 | 3/15/22 - 6/24/22 |
| 6 | 3/7/22 - 6/24/22 |
| 7 | 3/1/22 - 6/24/22 |
| 8 | 2/22/22 - 6/24/22 |
| 9-10 | 2/15/22 - 6/24/22 |
| Last Order Date | 6/20/2022 |

House Plants

| Zones | Shipping Dates | Last Order Date |
| --- | --- | --- |
| 3AB - 6AB | 4/11/22 - 6/3/22 | 6/14/2022 |
| 7AB - 10AB | 3/14/22 - 6/3/22 | 6/14/2022 |

Hedges and Shrubs

| Zones | Shipping Dates | Last Order Date |
| --- | --- | --- |
| 3A - 4B | 4/18/22 - 5/20/22 | 5/16/22 |
| 5A | 3/28/22 - 5/20/22 | 5/16/22 |
| 5B | 3/14/22 - 5/20/22 | 5/16/22 |
| 6A | 3/7/22 - 5/20/22 | 5/16/22 |
| 6B | 2/28/22 - 5/20/22 | 5/16/22 |
| 7A - 7B | 2/21/22 - 5/20/22 | 5/16/22 |
| 8A - 8B | 2/14/22 - 4/29/22 | 4/25/22 |
| 9A - 10B | 2/7/22 - 4/29/22 | 4/25/22 |

Shipping & Handling Charges

| Total Order | Add |
| --- | --- |
| Up to $40.00 order | $9.95 |
| $40.01 to $60.00 | $12.95 |
| $60.01 to $80.00 | $14.95 |
| $80.01 to $100.00 | $16.95 |
| $100.01 to over | $18.95 |
See our shipping information page for approximate ship dates and more detailed information. If you have any questions, please call Customer Service at (513) 354-1512 or contact us at service@brecks.com.
---