Naked Ladies Collection
65307
12 for $119.99

$44.99
We ship this item in Spring.
Amandi Naked Lady
65311
3 for $39.99

$18.99
We ship this item in Spring.
Alba Naked Lady
65310
3 for $39.99

$18.99
We ship this item in Spring.
Anastasia Naked Lady
65309
3 for $39.99

$18.99
We ship this item in Spring.
Vesta Naked Lady
65308
3 for $39.99

$18.99
We ship this item in Spring.
Naked Ladies Mixed Colors
89247
5 for $59.99

$19.99
We ship this item in Spring.
The collection includes 3 each of Amandi, Alba, Anastasia and Vesta, each variety separately bagged.
The mixed colors is a mixture of these varieties.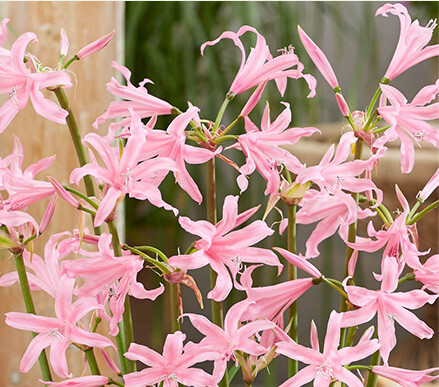 Amandi (Nerine Bowdenii)
Flowers are bubblegum pink with deep pink stripes running down the middle of the petals, which elegantly curl back. Their tall stems make them stand out even more in a bed, border or container garden. Height: 24-30" Nerine bowdenii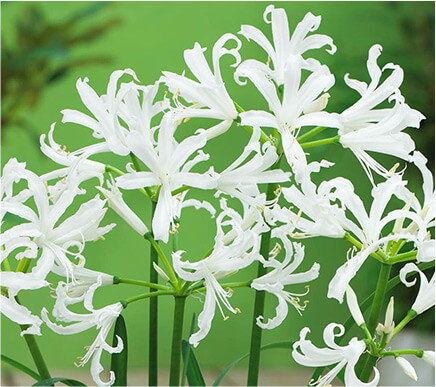 Alba (Nerine Bowdenii)
Sprays of pure white, star-shaped blooms are gracefully held aloft on slender but sturdy stems. Narrow, twisted petals curve back to give these scented flowers the look of lilies. A great addition to a late summer mixed border or bouquet. An excellent container flower, too. Height: 18-24" Nerine bowdenii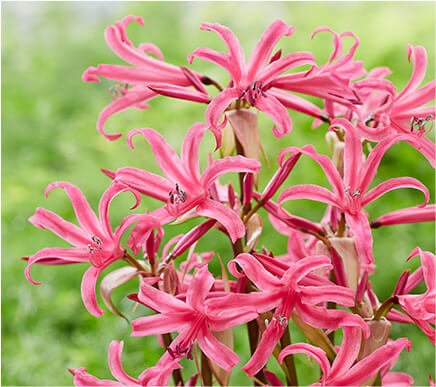 Anastasia (Amarine Belladiva)
The vibrant, shocking-pink blooms of this beauty will add pops of dazzling colour and fragrance to your landscape and patio pots long after most flowers have faded. You'll be amazed at how the flowers clusters appear to dance in the autumn sunlight. Height: 24-30" Amarine belladiva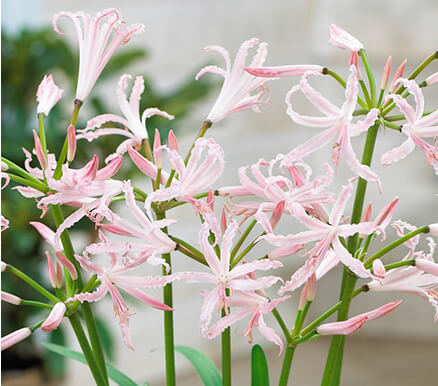 Vesta (Nerine Bowdenii)
Umbels of soft pink blooms add a late-season feminine touch to the garden bed or border. These groups of trumpet-shaped flowers grow on distinctive, leafless stems for weeks and continue to impress when snipped and used for indoor décor. Grows well in planters. Height: 16-20" Nerine bowdenii
Naked Lady Flowers - The toughest elegant and delicate flower!
We challenge you to find a more exotic-looking selection of fall flowering bulbs than Breck's Naked Ladies Collection! The four varieties in the collection are also simple to grow, unappetizing to deer, and draw butterflies and other pollinators. To top it off, they are some of the longest-lasting cut flowers available!
Before we continue, let's address the elephant in the room—the name! In a nutshell, it's about the foliage. The term "naked ladies" has been used for ages to describe nerines and other similar plants. Depending on your climate and summer rainfall, the slender flower stalks often shoot up when the base foliage isn't present, leaving the blooms in a unique state of "undress."
In addition to what they bring to fresh-cut arrangements, the varieties in this collection provide late-season charm and colour to garden beds, herbaceous borders and patio pots. Bearing exquisite blooms of white and several shades of pink, they will contrast brightly with the more russet tones of the fall landscape.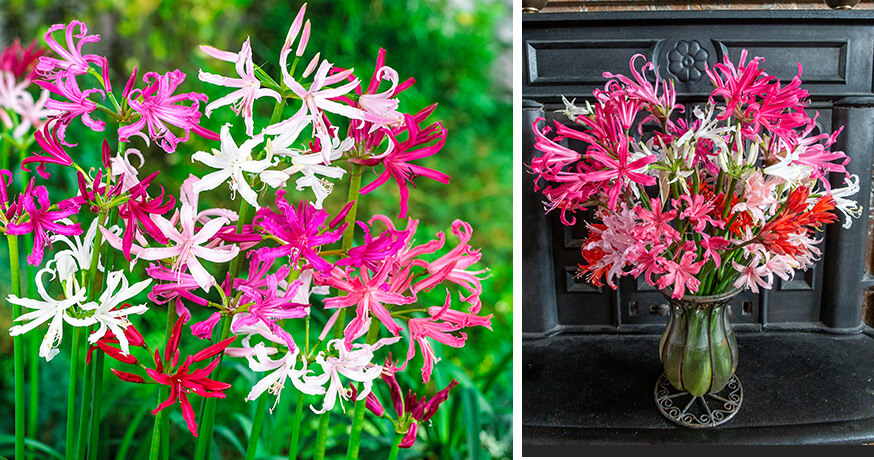 About This Naked Lady Collection
These four varieties produce large, 4-4½" clusters of five to 10 flowers, which are white or various shades of pink. Their narrow, wavy and recurved petals give these blooms a lovely, delicate appearance—but looks can be deceiving! They will survive winter undamaged in zones 7-9, and while bulbs should be lifted in fall in cooler hardiness zones, these tough customers don't need much else in the way of maintenance. Naked ladies are long lived in the garden and are some of the longest-lasting cut flowers around. Adding further to their appeal in floral arrangements are their long, sturdy stems and slight musky scent. This fragrance attracts butterflies, hummingbirds and honeybees, but also signals foraging deer to leave them alone.
About the Breeder
All four varieties in this alluring collection come from Agro Fleur Select, a well-regarded Dutch nursery that breeds and grows only nerine hybrids, commonly called "naked ladies." Kitty de Jong (pictured at left) owns and runs the business that her father started more than 50 years ago in Roelofarendsveen, The Netherlands. At that time, the nursery grew all types of cut flowers. He started growing naked ladies about 15 years later. These flowers used to be available only in pink, but Agro Fleur Select today offers an incredible assortment in different colours, flower sizes and stem lengths. Kitty credits the nursery's breeding success to what she calls her "jewelry box" of many different naked ladies species and varieties from all over the world. Breck's is proud to offer you this collection of Kitty's best!
Watch our informative naked ladies video here
Details
Customer Reviews
Questions & Answers
Shipping
Upon placing your order you will receive an email confirmation with the details of your order and a shipping estimate. You will also receive an email notification when your order actually ships with an updated arrival estimate. If you have ordered multiple items, you may receive them in more than one shipment. We will send you a separate email confirming each shipment.
At any time after you place your order you can check your order status on our website using your email or the account number found in your order confirmation email.
The type of product you order or the weather in our area or your area may affect the anticipated shipping schedule below.
Based on the contents of your order we always strive to ship your order complete, and as early as possible in the planting season to allow for the best root development once planted.
To promote optimum stress protection in transit and your success in the garden, bareroot perennials are kept in the ground in our nurseries until fully dormant. In the Fall these plants tend to arrive at the later end of the shipping window above.
In all cases, we choose the fastest, most efficient way to delivery your orders via the USPS or FedEx based on your hardiness zone.. Large orders may be shipped in more than one package.
Bulb and perennial shipments direct from Holland are harvested in July and August dependent on the season and crop. Once fully inspected and packaged they are shipped direct to you in the most efficient manner to follow the dates above.
Garden hardgoods and Gift Certificates ship with in 4-7 day.
We will pack and ship your order based on the following schedule.
Please note that we cannot ship outside the 48 contiguous states.
Planting Video: Step by Step
---