New E-certificates
Give a gift any gardener will love!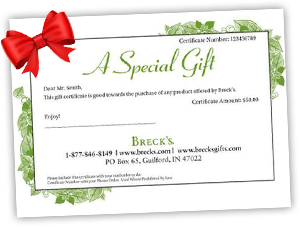 Amaryllis
About Amaryllis Plants
The amaryllis blooms, the stalks, the bulbs—everything about this traditional favourite of the holiday season is colossal. Everything, that is, except for the degree of difficulty in getting it to flower, because amaryllis produces blooms with less effort than any other bulb. This, in tandem with the tropical look of the gorgeous, trumpet-shaped blooms and its reliability for returning year after year, has made the amaryllis flower very popular throughout the world. This fast-growing and sometimes fragrant native of South American rainforests is available in a range of solid colours, multiple hues and striped varieties.
When to plant Amaryllis Flowers
When planted indoors in containers, an amaryllis typically flowers 6-8 weeks after planting, and its blooms can last up to three weeks. So, if you want its festive flowers to be part of your end-of-year holiday décor, we recommend planting your amaryllis bulbs in late October.
How to Plant Amaryllis Bulbs
Plant your amaryllis bulb in potting mix with the top third of the bulb sticking up out of the soil. Place the pot near a bright window, where it can receive a lot of direct and indirect sunlight. A south-facing window is preferred. When the amaryllis bulb sprouts, begin watering regularly around the bulb. Avoid overwatering and allowing the bulb to sit in wet soil, which can kill it. After sprouting, turn the pot regularly, because stalks will grow toward the sunlight.