New E-certificates
Give a gift any gardener will love!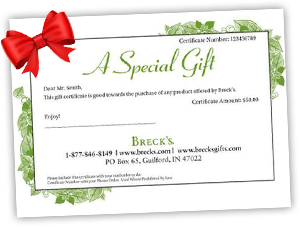 Why Breck's Bulbs Are Best
All of Breck's bulbs are individually selected, cream-of-the-crop specimens from leading Dutch growers — fresh, healthy, top-size bulbs — the kind Dutch gardeners select for their own gardens. Bulbs of this quality grow more vigorously, producing stronger stems and bigger, longer-lasting flowers. Every bulb comes fully protected by
Breck's Lifetime Guarantee
.
Our imported Dutch bulbs are rigorously inspected — only 1 in 20 meets Breck's strict quality standards. You can capture the beauty of Holland for your garden. We have a wider selection of rare bulbs than retail outlets and other mail order companies. Our staff of Dutch bulb experts is like having your own personal buyer in Holland.
---
Have another question? Call Customer Service at 513-354-1512. Return to the Customer Service Help page or send an email directly to Customer Service .