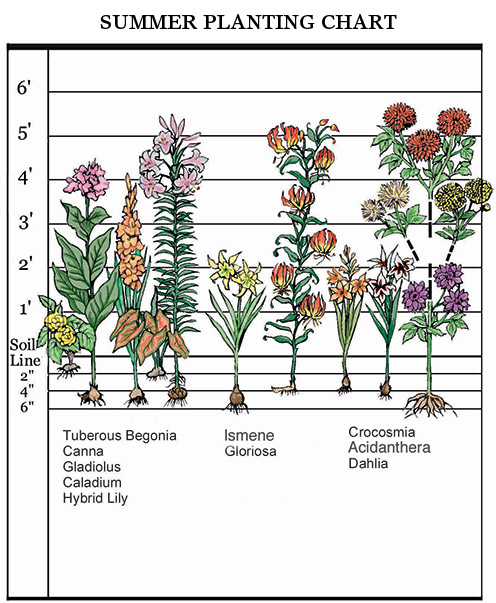 Summer flowering bulbs are planted in late spring when there is no longer a chance of ground frost. A couple of months later they will bloom. Summer flowering bulbs will bloom in most climates but most of them are not winter hardy. Some of the tender bulbs include gladiolus, dahlias, and cannas. This means that in some cold climates most summer flowering bulbs should be lifted in the fall following the first frost that discolors the foliage and stored to be used the next season.
Popular Types of Summer Bulbs to Plant in Spring
Blooming from summer to frost, shade-loving begonias are a great flower to brighten the shaded spots in your garden. These tender bulbs are not winter hardy in zones 3-8, so you will need to dig them up and store them over the winter.
Calla lilies are one of the most popular flowers among gardeners and florists. It blooms in the summer, usually in June and July, depending on your location. This trumpet-shaped flower comes in an array of colors and can be used in beds, borders, patio pots or planters.
Add a tropical look to your garden with canna flowers. These tender bulbs bloom from midsummer to frost. Dwarf cannas grow 2-3 feet tall while giant cannas can grow up to 5 feet tall.
Dahlia flowers are a favored among gardeners and flower farmers because they are easy to grow and provide weeks, sometimes months, of colorful blooms throughout the summer into fall. They make great cut flowers too. These tender bulbs will need lifted in zones 3-8.
Gladiolus flowers are also favored among gardeners and flower farmers. They're easy to grow, bloom throughout the summer and make great cut flowers. These tender bulbs will need lifted in zones 3-7.
Lilies can be planted in either fall or spring. They are hardy bulbs, so you do not have to lift them in the winter. Lilies come in many different colors and types: Asiatic, giant orienpet, oriental, trumpet and double blooms.