Much of the Northern Midwest, including most of Montana, North and South Dakota, Wyoming, and Minnesota, are in USDA Hardiness Zone 4. But, what do hardiness zones mean, and what is planting like in Zone 4? Read on to find out.
Where is Zone 4?
Each state has multiple USDA hardiness zones, thanks to regional climate differences, elevation, and other factors. Zone 4 primarily swaths of the upper midwest and plains states, such as the Dakotas and Wyoming. This zone covers sections of Colorado, Idaho, Iowa, Maine, Michigan, Minnesota, Montana, Nebraska, New Hampshire, New York, North Dakota, South Dakota, Vermont, Wisconsin and Wyoming.
What is Zone 4?
The USDA determines plant hardiness zones based on the average annual minimum winter temperature, or the coldest temperature of most winters. The USDA hardiness zones, numbered 1 through 12, each represent a 10 degree spread of low temps. In Zone 1, the average winter drops to -60 °F. In Zone 12, temperatures rarely drop below 65 °F. So, what is gardening like in Zone 4? Think of it this way—4 is a lot nearer to 1 than to 12.
Gardening in Zone 4 means dealing with cold winter weather—temperatures in Zone 4 drop to somewhere between -30 °F and -20 °F most winters. Zone 4 also has one of the shortest growing seasons in the United States. The last frost date typically falls near mid-May, while the first frost date occurs just four months later, near September. For produce gardening, Zone 4's cold, long winters mean limited varieties of hothouse veggies, but excellent crops of cherries and berries. For ornamentals like perennials and bulbs, Zone 4 may simply have a short growing season.
Zone 4 gardeners have lots of flowering options, however. Hardy bulbs like daffodils, hyacinths, and snowdrops flourish after deeply cold winters. And, bulbs that need a long growing time may simply need to be started indoors!
The Best Plants for Zone 4
If you live in Zone 4, then you should know it has one of the shortest growing seasons of all the plant hardiness zones in the lower 48 U.S. states, with a frost-free period lasting only from early June until early September. U.S. cities within this growing zone include Bismarck, North Dakota; Minneapolis; and Pierre, South Dakota. Asters, astilbe, bee balm, cannas, coneflowers, crocus, daffodils, delphiniums, hibiscus, hostas, hyacinths, irises, lilies, peonies, phlox, sedum, tulips, and yarrow are among the Zone 4 plants we recommend.
Don't forget that your Zone 4 garden probably has several microclimates within it, each of which is best suited for different plant types and varieties. Take some time to determine which microclimates your garden or yard may have, whether it's an open area of your backyard that's always in direct sunlight, a shaded spot beneath a big tree, a rock-covered hill, or a marshland. With a bit of practice, choosing the best plants for Zone 4 that will also thrive in your garden's specific microclimates will soon become second nature.
Use our growing zone finder to get more information about your exact hardiness zone.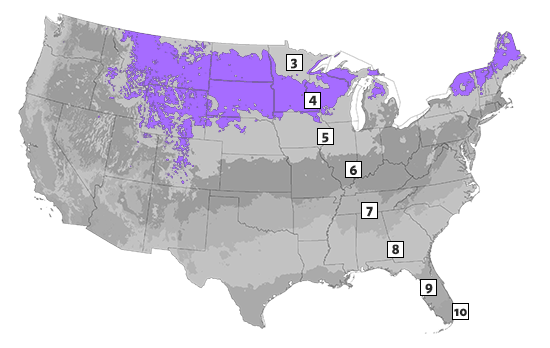 ---
Fall-Planted Bulbs for Zone 4
Largely because they signal the welcome return of warmer weather, spring blooms not only possess considerable natural beauty, but they also tend to occupy a special place in our hearts. Fall-planted bulbs include tulips, daffodils, hyacinths, alliums and crocus, a small plant that can flower even before the end of winter. Grow them in rich, well-drained soil that will receive plenty of sunlight. Remove weeds, loosen soil and add compost before planting.
Popular Varieties
---
Sun Perennials for Zone 4
Sun perennials are revered for their versatility, attract pollinators to your landscape and produce countless, lovely blooms for years or even decades. No wonder these are some of the world's most popular flowers! Sun-loving perennials include roses, peonies, irises, daylilies, hibiscus, coneflowers and asters. These varieties perform best when receiving about 6-8 hours of direct sunlight per day. Without it, the plants grow poorly, and their blooms, if any emerge, are drab and lifeless.
Popular Varieties
---
Shade Perennials for Zone 4
Some gardeners don't even try to grow anything in the shaded areas of their gardens or yards. That's a shame, because some incredible plant varieties—including those that yield many delicate, colourful blooms—fare well when grown within dark shadows. We recommend such shade seekers as hellebores, hostas, astilbe, bleeding hearts, toad lilies and ferns. Poor soil can hinder a shade perennial garden more than a lack of sunlight, so be sure to add plenty of organic matter when preparing a new one. Avoid damaging roots when planting Shade Perennials near trees.
Popular Varieties
---
Spring-Planted Bulbs for Zone 4
Spring-planted bulbs that bloom during the summer can thrive in most hardiness zones. What's more, they produce some of the most vibrant colours of the year. Varieties include dahlias, lilies, gladiolus, caladium, cannas, and begonias. In cooler regions, try planting summer bulbs outdoors in pots before transferring them—once the soil is warm enough—to your garden bed or border. Most can go in the ground once the possibility of frost has passed.
Popular Varieties
---
The U.S. Department of Agriculture's Plant Hardiness Zone Map, which divides the continental U.S. into eight gardening zones based on wintertime minimum temperature averages, can help you select plants that have the best chance of flourishing where you live. Each of our product pages lists the hardiness zones in which that particular plant is best suited for growing. Take the time to learn your location on the garden zone map. Don't wait until the next planting season begins to ask yourself, "What is my gardening zone?" or "What gardening zone am I in?" We can't emphasize this point enough: It's crucial for you to know your zone before choosing your plants. Selecting the right plants for your zone helps ensure a better performing and more attractive garden. As you become a more seasoned gardener and come to be more familiar with the advantages—and the limitations—of your growing season, you'll learn which of your favourite plants you can grow most successfully.